This is
Daniel Viles' Funky Pharmacy
The home page of

Second

Australia's ^ Greatest Sporting Mind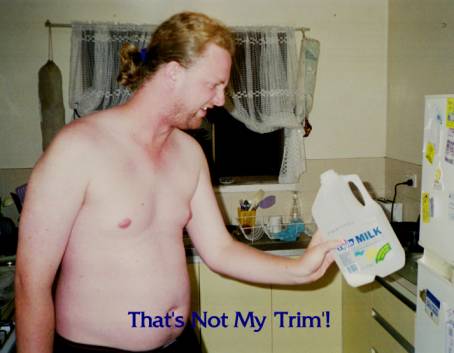 Hello and welcome to the web site of a very arty-farty individual who somehow managed to gain a reputation as a know-all on sport. I love lots of different things and this web site is my place to dump all of them. I hope you enjoy bits of it.
How Hard Can It Be? (finished for 2007)
link here to How Hard Can It Be? on ABC Brisbane website
Thursday afternoons after news
on ABC Local Radio Brisbane (612 AM) with Richard Fidler
Between the Wickets
Friday evenings (summer only) at
on 4RPH (1296 AM) with Tony Treloar
Rugby League Wrap-Up
Friday evenings (winter only) at
on 4RPH (1296 AM) with Laurie Parker
Sports Review
Friday evenings at
on 4RPH (1296 AM) with John Holden and Brett Pola
Also link to Bodgy Green - A St Bartholomew's Bunyips Cricket Web Site, created by ME!
Read my blog on my Yahoo 360 page
Inside the Funky Pharmacy
        in which I indulge in doggerel of the very lowest quality – includes segments performed on ABC Radio
in which I provide a purely forensic personal history
        also includes my favourite people and things
in which I rant and rave about sport
in which I rant and rave about music
Daniel's Eurovision Song Contest Guide or The Thinking Person's Guide to Eurosong
in which I review many of the songs of past Eurovision Song Contests
in which I throw my ideas about life into the arena for general discussion
in which I provide links to my favourite web sites
in which I reveal the sites that made me the sporting knowledge freak I am today
N.B. Some articles on this site do contain offensive language. The spelling and grammar, however, are flawless.
NEW! This website now comes with a health warning
E-mail Daniel at: danielviles@hotmail.com
Note: Daniel would like to point out that the grotesque photo at the top of this web page is a parody of an advertisement shown in Australia for Trim milk starring tennis player Pat Rafter. Anyone who dares to make fun of my paunch shall have a carton of Trim inserted into one of their bodily cavities.
last updated 2 December 2007