Children:

Eliphalet Augustus Trowbridge I

David Trowbridge

John Trowbridge

Lewis Trowbridge
Born: 1800, Mt. Freedom, Randolph, Morris Co., New Jersey
Died: 1820-21, Mt. Freedom, Randolph, Morris Co., New Jersey
Mary Trowbridge

Elizabeth "Betsy" Trowbridge

Catherine Trowbridge
Born: 1810, Mt. Freedom, Randolph, Morris Co., New Jersey
Died: unknown
Marriage: unknown
Husband:
Aaron Reeves
Born: unknown
Died: unknown
Note: F.B. Trowbridge lists him "of New York City."
Jane Trowbridge

Augustine Trowbridge

Ruth Trowbridge
Born: 1814, Mt. Freedom, Randolph, Morris Co., New Jersey
Died: still living, 1880, inmate at the Morristown Alms House, Morristown, Morris Co., New Jersey
Note: In 1850 census, lived with mother Jane Lewis Trowbridge and brother Augustine in
New Providence, Union Co., New Jersey; 1860 census, Hanover, Morris Co., New Jersey as a washer;
1870 as a boarder at her nephew,
Benjamin Knapp Atno, Sr. (II)'s
Brooklyn Hotel in Stanhope, Sussex Co., New Jersey.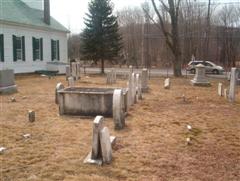 Two views of the Trowbridge family plot in Mount Freedom, New Jersey, where Jabez and Jane were
possibly buried in unmarked graves. Their son David and his family are buried here, as well as Jabez's paternal uncle, Absalom.

JABEZ TROWBRIDGE
In various legal documents, Jabez's name is often spelled Jebus, Jebis, Jabish, Javish, Jabis, or Jabus. Jabez owned a farm in a section of Trowbridge Mountain in the Mt. Freedom section of Randolph, Morris Co., New Jersey. This section of Millbrook Avenue was often referred to as "Trowbridge Hill" because of the large number of Jabez's sons and grandsons who owned substantial amount of property along Millbrook Avenue between 1810 to the 1890s. The last known piece of property owned by his family was sold in 2001, a very long presence along the same stretch of road. According a list of tax ratables dating from 1805, Jabez is mentioned as owning 150 acres of land valued at $30.00, with 3 horses and 4 cattle. He lived on Millbrook Ave. near Schoolhouse Road until sometime after 1840, which according tolocal records he was heavily in debt and lost his farm. F.B. Trowbridgewrites in "The Trowbridge Genealogy" that he removed to the home of his son David, who owned a farm about quarter mile south along Millbrook Avenue in Mount Freedom. After his death, by 1850 his widow, Jane lived with their son Augustine in New Providence, Union Co., New Jersey, possibly returning to Mount Freedombefore her death in 1853.
ABSTRACTS REGARDING THE WARDSHIP OF JABEZ TROWBRIDGE
"1788, April 7. Trowbridge, Javish, [Jabez] of Hanover, Morris Co., son of Shubel Trowbridge, of said place,deceased. Said ward, being out of wardship of Mary Williams, makes choice of Joseph Beers as his guardian. 1788, Apri l7.
Guardian-Joseph Beers, of Morristown, Morris Co., New Jersey, said co.
Fellow Bondsman-Absalom Trowbridge, of said co.
Witness - John Dalrymple."

Note: usually a document like this is issued when a parent ("out of wardship") has recently died, which apparently Jabez's mother Mary may have, because this is the only legal document her name appears after her father's will, which was probated in 1783. She is listed as Mary Williams because she married Revolutionary War veteran Joseph Williams within a year after Shubael died. The marriage was short lived however, becaise s Williams died in Denville, Morris Co., New Jersey by 1784. The guardian named for Jabez is a close friend of the family, Joseph Beers. Beers had very close ties to the Trowbridge family, with two daughters who married Trowbridges: Hannah, married to Jabez's first cousin David, and Huldah who married Jabez's nephew Shubael Trowbridge II (son of Jabez's older brother Augustine). Jabez was also named in honor of Joseph's father, Jabez Beers. The Absalom Trowbridge listed as a "fellow bondsmen" is Jabez's paternal uncle. Absalom Trowbridge, who lived in Mount Freedom, but spent a considerable amount of time in Morristown, because his name appears in several various Morristown legal documents such as in deeds and wills as a witness. It is unknown if he was an influence in Jabez settling in Mount Freedom during the 1790s, around the same time his younger siblings, John, Justus, Benjamin, and Elizabeth moved to Pennsylvania, For some unknown reason, his younger brothers changed the spelling of their last name to Strawbridge, while Jabez and his older brother Augustine retained the original Trowbridge spelling. Jabez appears to have been close to Augustine, who lived in nearby Morris Plains, naming two sons, Eliphalet Augustus and Augustine after him. It is interesting to note in 1845, Jabez died a few days before the death of Augustine's wife Elizabeth in April, and Augustine died about a month later in June, all well advanced in age.

Home