First Marriage:: Aug. 31, 1844, Mt. Freedom, Randolph, Morris Co., New Jersey
Note: still living, 1886, Michigan, name does not appear in the 1900 US census.
The headstone of Levi Dalrymple Jarrard at Elmwood Cemetery in New Brunswick, Middlesex Co., NJ. He was originally
buried in another location, but his daughter, Mary Jane Jarrard Buckelew, who is buried next to Levi, had him reinterred at
Elmwood Cemetery before her death in the 1920s.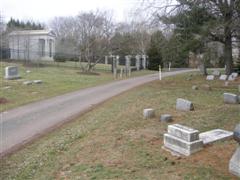 Elmwood Cemetery in New Brunwick, NJ. Levi's grave in in the lower right corner,
the mausoleum in the background is for the Johnson family of Johnson & Johnson fame.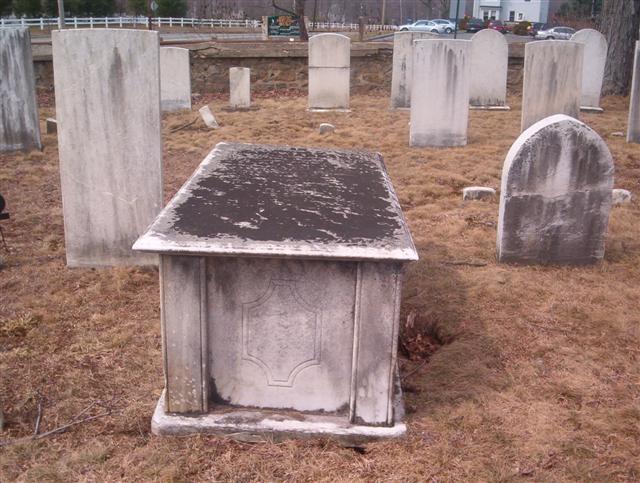 The graves of Jane Lewis Trowbridge (center) her son, David Trowbridge Jarrard (right) and her sister
Rebecca Trowbridge (left) who died the year before Jane. Both sisters may have died from complications from childbirth.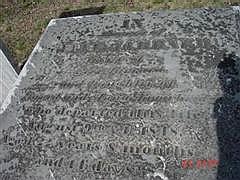 Closer view, the inscription reads: "Jane Jarrard, wife of Levi Jarrard, Daughter of David and Anna Trowbridge
who departed this life August 9 A.D. 1848 aged 26 years 8 months and 11 days"
LEVI DALRYMPLE JARRARD I & JANE LEWIS TROWBRIDGE
Levi Jarrard came from a prominent family from Warren County, named after his grandfather, Levi Dalrymple, who came from Center Grove, Randolph, New Jersey. Levi was a successful businessman (owning a ships chandler business in New Brunswick, New Jersey), and later served in the New Jersey state senate. Levi & Jane's first child is listed as a nameless daughter who was born and died in 1847, but records also indicate a son being born the same year named William Levi, who is either this child or a twin of the daughter. William does not show up in any of the census records from 1850 indicating he probably died as an infant. It appears the above book was in error, and William Levi is the unnamed infant. It would not be the only error, because the above mentioned records do not list Levi and Jane's first son, David Trowbridge Jarrard, who was born the year after Levi and Jane were married (named in honor of Jane's father, David Trowbridge). Another error is Levi's other son William Elmer, who is listed as dying in 1857, but was alive and well, living with his own family in Lansing, Michigan by the 1900 Federal Census.

Levi may been introduced to Jane by his brother-in-law, John Jabez Trowbridge, who was married into the Dalrymple family, and a son after Levi. The Dalrymples were well to do farmers in the Center Grove section of Randolph, where that Levi and Jane may have lived near the Dalrymple family farms, where Jane's brother John Jabez Trowbridge and his wife Eunice Dalrymple also resided. In Randolph, Levi and Jane had two children, and shortly following the birth and death of their infant son William Levi, they moved to Perrysville in Westmoreland Co., Pennsylvania. Jane died there in 1847, just three days after giving birth to Mary Jane. Levi demonstrated his devotion to Jane by transporting her body back to Mount Freedom, where she was buried in Dec. of that year at considerable expense. Now a widower with two children, Levi married Margaret Evans, and moved his growing family from Perrysville, to New Brunswick, Middlesex Co., New Jersey before 1855, the year he built a very large and expensive mansion. A very successful businessman, his wealth and power grew there thanks to his various businesses, which included a cigar manufacturing plant, a grocery store, and a canal waytowing business along the Raritan Canal. This was the primary source of his wealth, which consisted of a fleet of several tugs. His grocery store seems to have been purchased for his son David, who managed it, while Levi was still the owner. After David's death in 1875, his son-in-law Cornelius Beckelew (married to his daughter by Jane, Mary Jane Jarrard) took over. Levi eventually entered politics, being elected State Senator for Middlesex County in 1871, then elected Middlesex County Tax Collector in 1880. His foray into politics was not as successful as his businesses, and when his fortunes began to decline in the 1870s, beginning in 1875, the year his son David died. First, his grocery store Jarrard & Co. burned down to the ground under suspicious circumstances in 1879, then next he was forced to sell his mansion to the Carpenter family the same year, and on May 3, 1883, ten days before Levi was accused of embezzlement, his store and adjoining cigar manufacturing plant burned down again, this time almost taking his son William with itm who almost suffocated while saving the books. This fire, along with the previous fire in 1879 both look suspicious, because Levi collected $10,000 from the insurance company. And finally to add insult to injury, Levi was accused of stealing money from county funds that same year.Friends attempted to help him by having Levi elected Middlesex County Collector in 1880, but three years later he was accused of cooking the books, and fled to Canada to avoid arrest, but was apprehended by British authorities, extradited, and sent to Trenton State Prison, where he died in prison in 1886 (see below for timeline),

FROM THE BOOK "PIONEER FAMILIES OF NORTHWEST NEW JERSEY
by W. C. Armstrong , (1979: Hunterdon House)

John Jarrard, of Sussex Co., N.J., married Mary Parke on
Feb. 15, 1785. Authority, the Archives of New Jersey, Vol. XXII, page 215.

One child of theirs is here recorded:

I. Jonas Jarrard, born June 4, 1786, died April 27, 1848. He was a maker of waggons and plows in Warren County. He married his first wife, Mary Bird, on August 2, 1807; she died October 8, 1820. He married his second wife Ereminah Dalrymple on September 22, 1821; she was born on March 17, 1793, and died July 1, 1844, she was the daughter of Levi and Mary Dalrymple.
Eleven children of Jonas Jarrard, six of whom were by the first wife:
I. John, born (indistinct in the Bible record)
II. Garrett Bird, born November 21, 1809
III. Sarah Ann, born June 12, 1812, died Feb. 29, 1836, married William Beavers
IV. John Henry Garges, born June 18, 18154.
V. Mary, born Jan. 27, 1818, died April 5, 1848, married James Anthony.
VI. Benjamin Pettit, born July 9, 1820
VII. William, born July 8, 1822; first child by second wife.
VIII. Levi, born August 3,1824, died April 26, 1886; married (1) Jane Trowbridge and
(2) Margaret Evans; see below.
IX. Isaac, born March 16, 1827, died Jan. 20, 1834.
X. James, born March 5, 1829
XI. Ellen, born August 26, 1833.

Levi Jarrard, the eighth child of Jonas, was born in 1824 in Warren Co., N.J.; he removed to Morris County around 1842. Jane was born November 26, 1825, died August 9, 1848, buried at Mt. Freedom; she was the daughter of David Trowbridge, of Mt. Freedom, Morris County. Levi and Jane had two children, possibly three. The record is not clear about the possible third child. The first child was a daughter who died as an infant April 7, 1847; the second child, Mary Jane, we list below:

Levi married Margaret Evans on December 24, 1849. She was born December 15, 1832. They were probably married at Perryville, near Mauch Chunck, Pa., where Levi was living at that time.

The twelve children of Levi Jarrard:
I. Mary Jane, born August 3, 1848, the only known child by the first wife.
II. James Henry, born August 7, 1853, died April 3, 1854, the first child by the second wife.
III. Ellen, born Jan. 5, 1856, died March 4, 1857.
IV. Elwood Stokes, born March 18, 1858.
V. William Elmer, born October 3, 1859, died March 4, 1857.
VI. Winfield Scott, born Dec 3, 1861, died Sept 10, 1884.
VII. Esther Ann, born Dec 12, 1863.
VIII. Henry Dilatush, born July 9, 1865
IX. Elizabeth, born June 9, 1867.
X. Charles Edward, born March 26, 1872.
XI. Frederick, probably a twin, born 1872.
XII. Emma May, born October 8, 1873.

Trowbridge Household
Nine children of David Trowbridge; David was a Justice of the Peace and lived at Mt. Freedom:

I. J. J., born May 10, 1820.
II. Rebecca Ann, born May 11, 1824, died Feb 8, 1847,
married Paul Garrison.
III. Jane, born Nov. 26, 1825; married Levi Jarrard; see above.
IV. D. A., born Feb. 21, 1828.
V. Mary E., born June 14, 1830.
VI. Edward, born May 22, 1832.
VII. Sarah, born June 22, 1834.
VIII. Mahetty, born April 12, 1836.
IX. Eliphalet, born Apr 30, 1838.


Nearly all the data given in the above records are based on Levi Jarrard's Bible, which Bible was published in 1843 by Luther Roby at Concord, N.H., and which is now owned by a grand-daughter, now a resident of Lansing, Mich. Levi's signature is on the first fly-leaf with the date 1846 written by himself. Levi Jerrard was a proprietor of a ship chandler's business at New Brunswick, N.J., and a member of the legislature; a sketch of his life maybe found in the Biographical Encyclopedia of New Jersey, page 332."

Notes about Levi Jarrard Bible:It is unknown if Levi's son, David T. Jarrard was not listed in his bible, but I think reason was simple: the names were probably listed in the family bible between 1875 (the year David died) and 1886 (when Levi died) by either Levi, his second wife, or one of the surviving children that relocated to Pontiac, Michigan in the mid 1880s. When they listed the names, they only included members of the family who were still living, which after the death of her younger brother David in 1875, Mary Jane was the only surviving child from Levi's first marriage to Jane Lewis Trowbridge. For more information on the Jarrard family, you can visit the webpage of Norma F. Jennings.
FROM A BIG HOUSE TO THE BIG HOUSE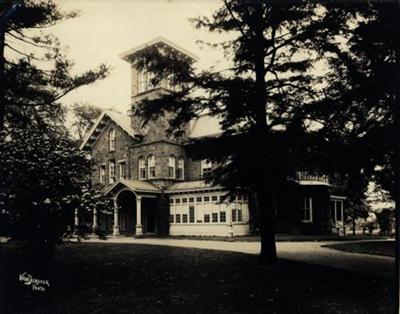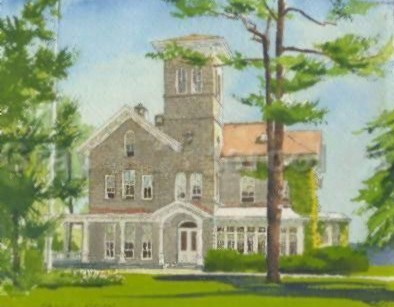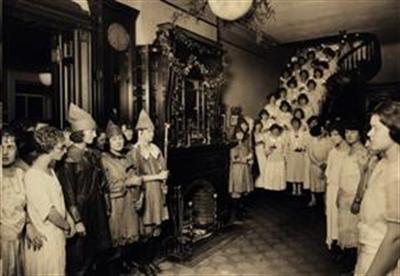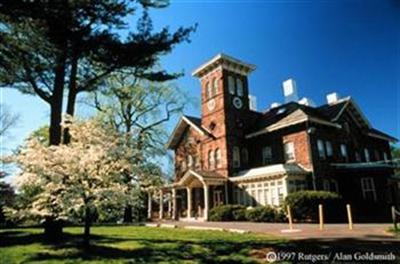 Levi D. Jarrard's house in New Brunswick, NJ, clockwise from the upper left: the house in the early 20th century, students from the 1920s or 30s when it became part of Douglass College, a womens college in New Brunswick, and a watercolor and pictures of the house today, which was renamed College Hall for the college, which is now part of the New Brunswick campus for Rutgers University.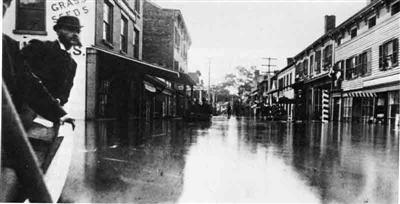 Looking like Venice, Italy, Burnett Street in New Brunswick, NJ following a flooding of the Raritan River in 1882. Jarrard's businesses
were located here, including a cigar manufacturing plant, a grocery store, and his canal way towing company.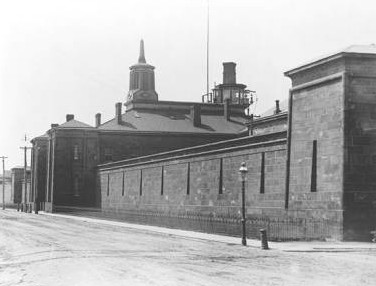 New Jersey State Prison in Trenton around the time when Levi D. Jarrard was incarcerated during the 1880s.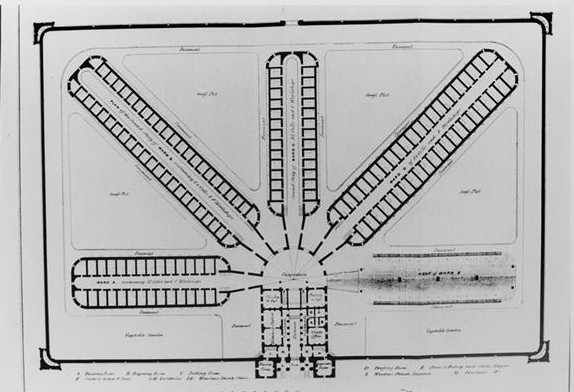 A floor plan of a wing of the prison during the 1800s.




In his later years, Levi served in public office, most notably in the New Jersey Senate, as well as a County swhich led him from his mansion in New Brunswick, which he was forced to sell to the Carpenter family in 1880. In an attempt to ease his financial difficulties, friends obtained the position of Collector for Middlesex County, a post which led to his disgrace and downfall (see below). Like so many policitians of that era known as the Gilded Age, many had their hand in the till, which Levi appears to have been no different. His motivations, however illegal, appeared not to be completely selfish. He seemed to be generous to a fault, losing money while helping others in need. But in the process, he seemed to have angered some very powerful people in Middlesex County, and in the state capital, Trenton, who suceeded in destroying him. This information had been unknown during my early research on Levi, and while doing a Yahoo search on Levi D. Jarrard,brought up an interesting document from the 1883: an arrest warrant signed by the President of the United States, Chester Alan Arthur. Even though the arrest warrant was issued for "Levi D,. Jarrard", the webpage selling the document, Gallery of History, was uncertain if it was issued by President Arthur for Levi. The reason for President Arthur's involvement may have had something to do with probably connected with the extradition battle between British colonial authorities in Canada and Middlesex County Prosecutors to return Levi Jarrard to stand trial in New Jersey. My cousin, Angie Dethloff, who put together the following timeline of the life and career, and downfall of this forgotten figure in New Jersey politics:
| | |
| --- | --- |
| Aug 3, 1819 -1824? | Born in Warren Co., New Jersey |
| 1842 | Moves to Morris County |
| Aug. 31, 1844 | Marries Jane Trowridge of Mt. Freedom, Morris Co., NJ, 3 children, David T., William Levi born in Mt. Freedom, Mary Jane born in Perrysville, Pennsylvania. |
| Apr. 7, 1847 | Second child William Levi Jarrard born and dies same day in Mt. Freedom, NJ. |
| Feb. 28, 1848 | Chosen as trustee of the Mt. Freedom Baptist Church for disposing the church and grounds. |
| Aug. 9, 1848 | Jane dies in Perrysville, Westmoreland Co., PA days after giving birth to daughter Mary Jane Jarrard. |
| Dec. 4, 1849 | Marries Margaret Evans, 11 children are born between 1853-1873. |
| 1849 | Superintendent of the Pennsylvania railroad tow business |
| 1850 | Moves to New Brunswick. Starts the canal stabilizing business on Burnet Street., New Brunswick and way towing business owning many tugs. These 2 businesses are his primary sources of his fortune. |
| 1855-1860 | Purchased land at 125 George Street for $20k and builds a h use for $80,000. His house in New Brunswick, Middlesex co., New Jersey still stands, and is currently used by Rutgers University's Douglass College campus as "College Hall". Designated a historical landmark in 1982. |
| 1861 | Former father-in-law David Trowbridge dies. |
| 1850-76 | Begins his politcal career |
| "" | Masonic fraternity member and one of the protectors of Masonic Hall |
| "" | Board of alderman |
| "" | 11 years NJ state legislator |
| "" | 5 years house |
| "" | Starts the grocery store of Jarrard & Farley |
| "" | Starts cigar manufacturing business |
| 1861-70 | Son David marries Esther Ann Garrison, his first cousin and daughter of Jane's sister Rebecca Ann Garrison. Esther Ann was raised by Jarrard's former in-laws David & Anna Trowbridge. David works as a grocer at his father's store, Jarrard & Farley on Burnett Street in New Brunswick until the 1870s. |
| 1868< | Elmwood cemetery association stockholder |
| Feb. 7, 1871 | Dime Savings Bank is incorporated; chosen as a director. 137 George Street, New Brunswick. Corporation closed 1886. |
| 1871-1876 | NJ State Senate (Middlesex Co.) for 2 terms |
| "" | Candidate for Presidency of NJ State Senate – lost by 1 vote to Senator Sewell |
| "" | Candidate for State Comptroller – lost. |
| July 6, 1874 | Levi buys property from the Trowbridges in Mt. Freedom.(willed). |
| 1873-74 | Purchases addtional Randolph property.. Jarrard never lives at any of the real estate purchased in Morris County |
| Mar. 7, 1875 | Son David dies; age 30, followed by two of his three children later that spring, leaving his wife Esther Jarrard a widow with one surviving son, Levi D. Jarrard II. |
| 1879 | Fire destroys business grocery store or cigar plant Told Masonic members he lost $10k in assorted investments |
| 1879 | Sells property in Mt. Freedom to his daughter-in-law Esther Jarrard. |
| Apr., 1880 | Has fallen behind on his real estate taxes. His home and land sold by Miles Rose to John N. Carpenter for $34,000. His property was deeded to Mr. Stubbelbine several years earlier for a debt of $8,000. Never sees any of this money. Later states in in his own words that this was the start of his financial ruin. |
| Oct. 26, 1881– June, 1883 | Postmaster position |
| May 6, 1883 | Fire destroys Jarrard & Company cigar manufacturing, and Jarrard & Farley Grocery Store, next door. (along Delaware & Raritan canal.) Fire is suspicious. Estimated $15,000 in damages has insurance. Mentions fire 4 yrs earlier. Son William Elmer almost suffocates by fire retrieving company books. |
| May 19, 1883 | Ordered to surrender books and $10k to the new collector-Richard Serviss. Investigation begins. There is $21.00 in the bank acct. Jarrard says he will come in the afternoon, but never shows. Half way through examining the books, they find an additional $20,000 missing. They also investigate the books as postmaster with no discrepancies found. He lives on George Street at this time. |
| May 23, 1883 | Chester, Pennsylvania newspaper reports "Levi is now in Pennsylvania". Levi has offered to settle the deficiencies in his account. State Treasurer agrees to loan him $10,000 to pay the deficit. |
| June 14, 1883 | President Arthur selects John Babcock to succeed Jarrard as postmaster. |
| June 28, 1883 | They come up with a total of $39,307.33 as missing from Jarrard's accounts. A reward is offered for his capture. Jarrard's friends offer to pay $10, 000 of his deficit. Jarrard still missing. He was leasing a hotel at Windsor, opposite Detroit, under assumed names |
| July 31, 1883 | Jarrard captured at Niagara Falls in Ontario, Canada at 5pm by British authorities. |
| Aug. 7, 1883 | New Brunswick prosecutor Robert Adrian and city lawyer J. Kearney Rice have returned from Canada to NJ.. Canadian charge is forgery. |
| Aug. 24, 1883 | Canadian court hearing; he tells reporters his story,: his life of ruin began when he took position of collector and lost his house. His plan was to sell the house to a perspective buyer for $84k but was sold from under him. He said he left New Brunswick with $100 in his pocket. Friends sent him money to live on. His family moved to Detroit when he fled to Canada. He also said he was near taking his life a few weeks before being captured. |
| Aug. 28, 1883 | At Welland, Canada, Levi Jarrard takes an oath of allegiance to the British government. It will takek over a year to extradite him from Canada to New Jersey because of a conflict between the British & United States governmenst between forgery and embezzlement. The British refused to send him back to the United States on the forgery charges. When the Americans changed the charges to embezzlement, Levi would be returned to New Jersey to stand trial. Jarrard's lawyer is Howard MacSherry. Reports claim he was paying his lawyer $150 each session in court and has $4k left of stealings. |
| Oct. 25, 1883 | President Chester Alan Arthur issues an arrest warrant for Jarrard. (see below) |
| Dec. 17, 1883 | British court finds him guilty of forgery. Judgement to extradite. Lists as false entried in his books. |
| Mar. 5, 1884 | Chester, PA Times reports "forged money orders as postmaster" (This may have been the reason President Arthur signed a warrant for his arrest, since this is a Federal crime). He is remanded for extradition. |
| Mar. 19, 1884 | In the city jail. Sherriff Disbrow has 2 cells cleaned; one for sleep and one for reception. |
| Apr. 24-26, 1884 | Middlesex Court convicts Jarrard of forgery in the oyer and terminer court. 2 weeks later sentenced to 10 years. Jarrard is incarcerated in Trenton State Prison cell #10. |
| July 12, 1884 | Committee appointed by Middlesex County Freeholders accept 10,000 from bondsmen. |
| Sept. 10, 1884 | Son Winfield Jarrard dies of hemorrhage in Pontiac, Michigan. |
| Feb. 4. 1886 | His oldest daughter, Mary Jane, Mrs. Cornelius Buckelew, circulates a petition for her father's pardon, soliciting members of the grand jury, bondsmen, jury, etc. She receives thousands of signatures, but New Jersey Governor Leon Abbett refuses to grant the now dying Levi a pardon. Feb. 24. 1886 "…the position for a pardon for Levi D. Jarrard sets forth that he has been examined by two Trenton physicians, who have certified to the fact that he may live a year longer in prison, and five years if released; that his health is broken and consumption is fast feeding upon the little that remains. He is seventy years of age." |
| Feb. 24, 1886 | A meeting with Levi Jarrard in cell with a venture capitalist regarding the building of a horse car route in New Brunswick because of Jarrard's experience and influence. He is made stockholder and officer in this new company. |
| Apr. 15, 1886 | Levi Jarrard is now very sick in jail. It is reported he has tuberculosis (also called consumption). |
| Apr. 22, 1886 | Levi Jarrard is now in dangerous condition with an internal abcess in his side. |
| Apr. 26, 1886 | Levi Jarrard dies in the state prison hospital of a severe internal abcess, due to consumption |
| | Many people question the whole incident, and believe that Levi Jarrard was innocent of the charges. |
More Personal Info
It seems that part of Levi's downfall was his generosity. His obituary reads: "He was a member of the Masonic fraternity, and members said he lost $10,000. In 1879 he is said to have lost heavily from going, surety for friends, and it was to relieve him from his pressure that he was elected to the office of County Collector." He was liberal in his charities in the days of his prosperities, and his generosity amounted almost to a fault. Those who were in his employ and those who knew him most intimately speak the warmest terms of his large hearted liberality which sought out and assisted very many families in distress."

Well, that sure says it all, when when Levi came helped David and Anna and their family, the Trowbridges of Mount Freedom, they would have been in deep trouble without his generosity, which was motivated by his love for Jane and her family, such a deep love that he spared no expense bringing Jane's body back to Mount Freedom from Pennsylvania four months after her death, which must have been expensive for the time, and the elaborate memorial that he erected over her grave at Mt. Freedom. Jane's death did not sever his ties to the Trowbridges. Circumstantial evidence indicates that helped the Trowbridge family during financial difficulties caused by thedeath of Jane's father, David Trowbridge. David Trowbridge's death left his widow, Anna Youngs, with a $2,000.00 mortgage on their farm in Mount Freedom which she could pay, forcing the bank to foreclose on the property. The bank then subdivided the Trowbridge into small parcels, which it auctioned off, collecting only $1,800.00 out of the $2,000.00 owed. The bank then forced poor Anna, facing eviction, to go to court in Newark to settle this debt. It was probably during this time the Trowbridge family appealed to the only person who could help them at the time, Levi. John Jabez Trowbridge, Jane's eldest brother who was also married to Levi's cousin, Eunice Dalrymple, seems to have continued his friendship with Levi after Jane's death, namimg a son after him. John was placed in charge of straightening out the financial mess left by his father's debts, and may have appealed to Levi for help. Levi bought up several parcels of land that had been auctioned off by the bank, and paid off the balance of the money owed to the bank. Even though he kept most of the land in his name, he allowed Anna to keep her house along with the surrounding half acre of property. Even though he, and his son David, were now owners of much of the former David Trowbridge land, the Jarrards continued to reside in New Brunswick. But during the course of these events, that a romance was kindled between Levi's son, David, and his first cousin, Esther Ann Garrison, the daughter of Levi's late sister-in-law, Rebecca Ann Trowbridge Garrison, who was living with her grandparents at the time. For unknown reasons, Esther Ann's father, Paul Garrison, left her to be raised by her grandparents after the death of her mother, who died a couple of days after giving birth to Esther Ann. Thre is indirect evidence that the relationship may have started around this time because Levi's daughter Esther Ann Jarrard, was born in 1863, around the same time he rescued Anna and her family, and may have named her after his daughter-in-law. After his son married Esther Ann, Levi appears to have set his son up with his own grocery business in New Brunswick, where David and Esther Ann lived at least until the 1870 census, and may have been in business with Cornelius Buckelew, who was married to Levi's other child by Jane Trowbridge, Mary Jane Jarrard. Sometime after 1870, David and Esther Ann moved to Mount Freedom with their children, presumably on the land Levi owned. After David left New Brunwick, it appears that his son in law Cornelius Buckalew, and Levi's younger sons ran the grocery store, because Buckelew is listed in the 1880 census as a grocer, operating the same store that was owned by David Jarrard ten years previously. Levi continued to assist the Trowbridges at least until around the time his son died in 1875. He served as a founding director of the Dime Savings Bank, and was on the board of trustees for Elmwood Cemetery in New Brunswick, where his daughter, Mary Jane, had his body moved from another location, probably Trenton, where, loyal after death, is buried next to her father.

President Chester Arthur (left) & NJ Gov. Leon Abbett (right).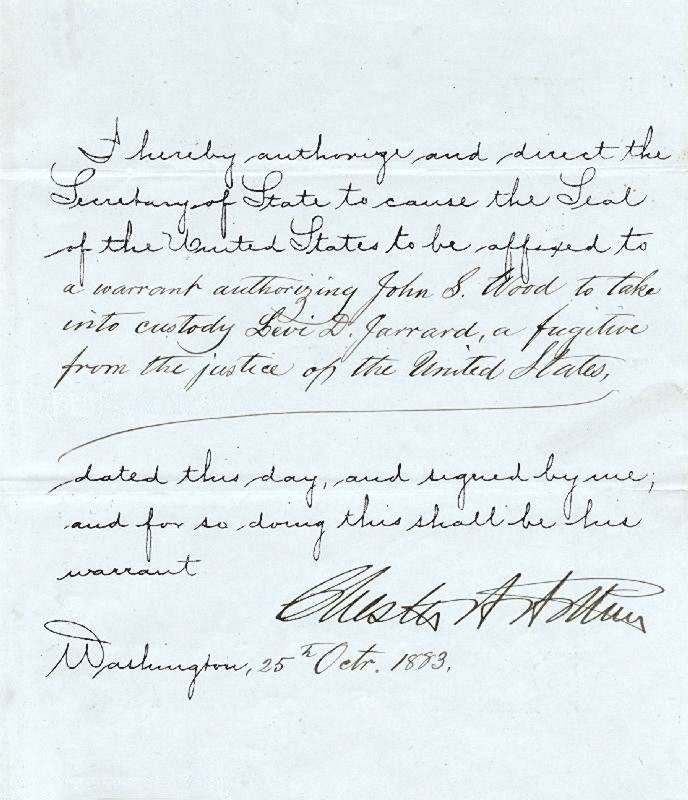 Arrest warrant signed by President Arthur. Click on the picture for a larger view.
PRESIDENT CHESTER ALAN ARTHUR - PRESIDENTIAL WARRANT SIGNED OCT. 25, 1883

Document 3962 from Gallery of History website.


Relating to taking into custody a fugitive from justice. Partly Printed DS: "Chester A. Arthur" as 21st U.S. President, 1p, 7¼" x8½" . Washington, 1883 October 25. In full: "I hereby authorize and direct the Secretary of State [Frederick T. Frelinghuysen] to cause the Seal of the United States to be affixed to a warrant authorizing John S. Wood to take into custody Levi D. Garrard, a fugitive from the justice of the United States, dated this day, and signed by me, and for so doing this shall be his warrant." According to the U.S. code, the Secretary of State "shall have the custody of the Seal of the United States" and "the seal shall not be affixed to any instrument without the special warrant of the President." Therefore Wood's authority to take Jarrard into custody needed the U.S. seal to make it an official U.S. document.
THE OBITUARY FOR
LEVI D. JARRARD
TRENTON TIMES,

MAY 4, 1886, FORTY-EIGHTH VOLUME, NO. 38
Levi D. Jarrard Dead
Ex-State Senator Levi D. Jarrard, of Middlesex county, died at the State Prison Monday afternoon, aged 62 years. Mr. Jarrard had been suffering from a complication of diseases for some time, but the immediate cause of his death was a severe internal abscess...He leaves a wife and five children.