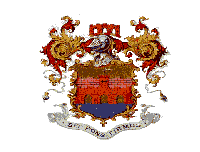 William Francis Trowbridge
Born: July 6, 1856, Mt. Freedom, Randolph, Morris Co., New Jersey
Died: after Dec. 21, 1933, Millbrook, Randolph, Morris Co., New Jersey
Parents: David Austin Trowbridge & Catherine Caroline Coe
Occupations: farmer, laborer, woodchopper
Buried: Mt. Freedom Presbyterian Church Cemetery, Mt. Freedom, Randolph, Morris Co., New Jersey
Marriage: Aug. 20, 1882, Mt. Freedom or River Styx (Lake Hopatcong), Morris Co., New Jersey
Wife: Anna Mae Southard
Born: Feb. 24, 1864, River Styx. (now Mt. Arlington), Roxbury, Morris Co., New Jersey
(located along Lake Hopatcong, the largest lake in New Jersey)
Died: May 22, 1959, Millbrook (Randolph), Morris Co., New Jersey
Parents: Timothy Southard and Sarah Elizabeth Gordon
Buried: Mt. Freedom Presbyterian Church Cemetery, Mt. Freedom, Randolph, Morris Co., New Jersey


Children:

Mahlon Trowbridge
Born: Dec., 1882, Randolph, Morris Co., New Jersey
Died: between 1900-1909, Randolph, Morris Co., New Jersey
Occupation: according to 1900 US census, servant for the John Wilson family in Randolph, Morris Co., New Jersey
Willie Trowbridge
Born: between 1883-1888, Randolph, Morris Co., New Jersey
Died: before 1900, Randolph, Morris Co., New Jersey
Ellwood Trowbridge, Sr.
Harry Trowbridge
Born: Mar., 1891, Randolph, Morris Co., New Jersey
Died: between 1900-1909, Millbrook, Randolph, Morris Co., New Jersey
Myrtle Trowbridge

Robert Trowbridge

Edward "Eddie" Trowbridge
Born: 1903, Millbrook, Randolph, Morris Co., New Jersey
Died: between 1920-30, Millbrook, Randolph, Morris Co., New Jersey
Buried: Mt. Freedom Presbyterian Cemetery, Mt. Freedom, Randolph, Morris Co., New Jersey
Winifred or Minnie Trowbridge
Walter Trowbridge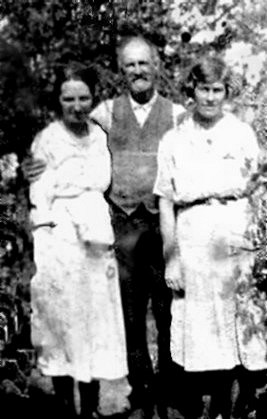 William Francis Trowbridge (center) with his daughter-in-law Rose Snook (left)
and daughter Myrtle Geisik (right) in Millbrook, NJ sometime between 1920-34.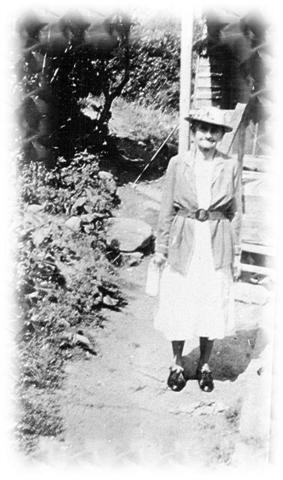 Anna Mae Southard

Anna Mae Southard with her family in the 1950s.
WILLIAM FRANCIS TROWBRIDGE & ANNA MAE SOUTHARD
William Francis Trowbridge was a farmer, woodchopper, and laborer who lived on Lawrence Road near where Pierson's Hill Road intersects with Millbrook Avenue in Randolph. According to the late Winifred (Minnie) Trowbridge, William & Anna Mae Trowbridge were squatters. This was proof civilization had finally arrived in Randolph, because a hundred years earlier they would have been called homesteaders. Now a neighborhood of high income housing, it is hard to believe that William and his family lived in a shanty. He spen t his early years at his father David Austin Trowbridge's farm in Mount Freedom, which now the Randolph Museum in Randolph, New Jersey. William left home by the 1880 census, which lists him as afarmhand living with the Pomeriard Pool household in Mt. Freedom. Some time between 1880 and 1882, he was in the Lake Hopatcong area, where he met and then married Anna Mae Southard, who was born in River Styx section of Roxbury Township along Lake Hopatcong (now in Mount Arlington) about seven miles northwest of Randolph. The marriage may have been a "shotgun" wedding, because their eldest son Mahlon was born less than six months after their marriage. One interesting coincidence with William and Anna Mae wast William's grandfather, David Trowbridge, and Anna Mae's father Timothy Southard both served as Justices of the Peace for the Morris Co., New Jersey. Although David Trowbridge & Timothy Southard were the same age, it seems that they never knew each other, so their positions did not play a direct role in getting William and Anna Mae together.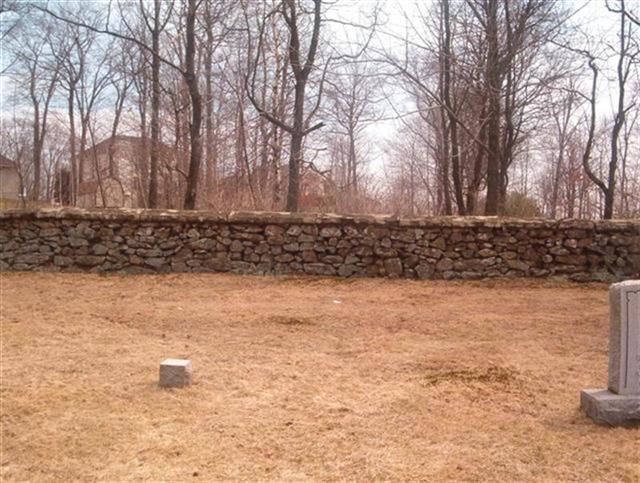 The final resting place of William Francis Trowbridge, Anna Mae Southard, and their sons Mahlon, Willie, Eddie, and Ellwood Trowbridge in the Mount Freedom Presbyterian Cemetery in Randolph, New Jersey. It is approximately fifty feet directly behind the headstones of William's parents, David Austin Trowbridge and Catherine Coe.
Anna Mae was the daughter of lawyer, school teacher, and farmer Timothy Southard and his much younger second wife and cousin, Sarah Elizabeth Gordon. Timothy Southard's family originally came to New Jersey from Long Island during the 1730's, settling in Rockaway and Basking Ridge, both in Morris Co., New Jersey. The Basking Ridge branch of the Southard family, descended from Abraham Southard, produced several notable figures in both state and federal politics, including New Jersey Governor and Senator Thomas Southard, who was a political rival of New Jersey Governer and United States Senator and Secretary of the Navy, Mahlon Dickerson of Mine Hill. In the 1870 U.S. Census, 71 year old Timothy Southard, and Sarah Elizabeth Gordon lived with their four year old daughter Anna Mae on a farm in Roxbury, Morris County, New Jersey, apparently in what is now Mount Arlington. One source says that her father owned either parts, or all of Bertrand's Island, a peninsula in the lake which currently has some of the most expensive real estate in Morris County today. Anna Mae was the only child of Timothy's second marriage, with two older brothers and one surviving sister from his first marriage to Mary Estile Dickerson. After her father's death around 1877, Anna Mae apparently lived in her father's house with her mother Sarah unti l some how she met and married William Francis Trowbridge aroun d 1882. Apparently she was pregnant out of wedlock, because the period between her marriage and the birth of her first son Mahlon was about four months. Anna Mae's mother probably died around 1893-94, when Anna Mae sold the Southard property in 1894 to the Cutler family for a dollar, which at this point consisted of thirty acres and a house along Lake Hopatcong. According to last surviving daughter-in-law of Anna Mae's, she was apparently swindled by the Cutlers, who built their fortune on foreclosing on mortgages and generally paying below fair market value on properties owned by illiterate and naive farmers like William and Anna, who were satisfied living as squatters in a ramshackle dwelling, accepting quick and easy money for what was even in those days valuable lake front property. Lake Hopatcong in those days was a popular resort area for vacationers coming from New York City, especially in the days before freeway and airlines, and was popular because it was closer to the city than the Poconos and Catskills, which eventually were more popular destinations when the automobile became more available during the early 20th century.

Three of William and Anna's sons, Mahlon, Willie, and Eddie, died young, with five others living to adulthood: Ellwood, Robert, Walter, Myrtle, and Minnie. By the 1930 census, all of the children had left the house, with William and Anna iving by themselves in their shanty in Millbrook. Two questions asked during the 1930 census was if the members of the household were literate, and owned a radio, which William and Anna Mae answered no to both questions. It is ironic that Anna was illiterate, being the daughter of a schoolteacher, but given the attitudes towards women in those days, it would not be suprising, since the woman was expected to stay home and care for the children. William died in 1934, and Anna Mae moved in with her son Robert, who had married Clara Flornes in 1933. Blinded by cataracts, Anna Mae continued to live with her son until her death at the age of 94 in 1959, affectionately known to her family as "granny".

Home