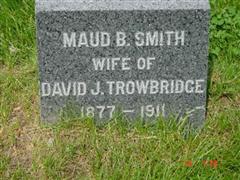 The headstone of Maud Bertha Smith.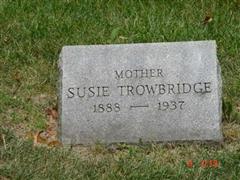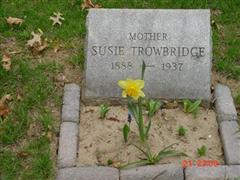 Headstone of Susie Lee Smith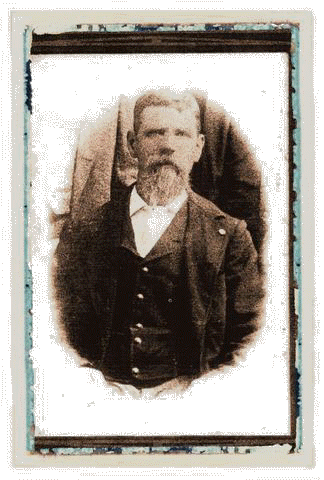 David Jarrard Trowbridge
All of the above photos courtesy of Angela Dethloff & Mary Pavlik.
DAVID JARRARD TROWBRIDGE FAMILY
David Jarrard Trowbridge was named after his first cousin, David Trowbridge Jarrard, who died the same year David was born. According to a 1900 census, David was living with his father-in-law, Jacob Smith, and Mary Jane Smith, his mother-in law. Other people living in the Smith household also included David's one year old son, Gilbert, David's wife Maud Bertha, his brother-in-law, Oscar, and his sister-in-law, Gertrude. So, for a time, the entire family lived in the same household during the late 1890's to early 1900's. According to Francis Bacon Trowbridge, in 1909 David Jarrard was a carriage painter. On Jan. 10, 1911, Maud Bertha died of double pneumonia, and was buried in Evergreen cemetery. The following year, David and Maud's daughter Mabel died of pneumonia, and was buried next to her mother in an unmarked grave. Later that year David married a second time to Susan Lee Smith on May 17, 1912. It is unknown if she was related to David's first wife, Maud Bertha, if she was, she may have been a cousin. By the 1920 census, David is listed as living with his second wife, Susan, and his children Lois, David Henry, Charles William, and Russell Francis. His occupation was still that of a carriage painter. The following year, on Jan. 25, 1921, David and Susan Lee had a stillborn baby, who was buried at Evergreen Cemetery.
David Jarrard Trowbridge died of congestive heart failure on November 11, 1925 at 1:05am at All Souls Hospital, (now Morristown Memorial Rehabilitation Center) in Morristown, Morris Co., New Jersey, and buried Nov.14 in an unmarked grave at Evergreen Cemetery, also in Morristown. He died of chronic Endocarditis, was being treated for this from Sept., 1925 until his death. At the time of his death, he and Susie lived at Littleton Rd. in Littleton (now part of Parsippany).

The David's family is listed in the 1929 Polks City directory as "Trowbridge, Susan, wid. David) living at dom h6 Maple in Morristown. The whereabouts of David's family is as follows in the 1930 federal census: David's son Russell appears in Morris Plains, listed as living with his half-brother Gilbert, and Gilbert's wife Mary. Russell and William Charles (listed by his birth name of Edwin) is listed as living with his mother Susan and her second husband, Charles Tyson. Her second husband is listed as being married for the first time in his forties, pretty late in life at the time. The breakdown of the household is as follows:

Tyson, Charles A., head - 44 - born NJ- Laborer, papermill
Tyson, Susan - wife - 43
Trowpratt (should be Trowbridge), David-stepson - 17 - Laborer, odd jobs
Trowpratt, Russell - 16 - Laborer, odd jobs.

David's older brother, Bryant, seems to have acted as a father figure for David's sons after his death, as most of the boys lived in the same block in Morris Plains where Bryant and Minnie Trowbridge lived. Susan Lee died in 1937, and was buried in Evergreen Cemetery in Morristown. Her headstone reads "Susan Trowbridge, mother". The plot and headstone may have been purchased by her sons, and her son Charles William purchased the headstone, which would explain why it lists her last name as Trowbridge instead of Tyson, although the other explanation could be that her second marriage was a common-law marriage.
Special thanks to the research of two of David Jarrard Trowbridge's great-grandchildren, Angela Dethloff and Mary Pavlik.