"...Austin Trowbridge, was born April 19, 1767, and died June 7,1845. His wife, who bore the maiden name of Elizabeth Freeman, was born May 18, 1775, and died April 25, 1845. Mr. Trowbridge was a farmer by occupation, and was a well known citizen of the community in which he made his home. He was the owner of a clock, which is now in possession of our subject [Samuel F. Pierson], and, although more than a hundred years old, it is still in good running order."
PEARL E. WHEELER FAMILY BIBLE INFORMATION
The following is information my mother copied from a letter my cousin George Nas received from a Mrs. M. Rockwell of Morristown from the Wheeler family bible, who are descendents of Augustine Bayles Trowbridge, as well as other genealogical information back in the early 1980's, when George was working with the Ferromonte chapter of the Daughters of the American Revolution to place a headstone on the grave of Absalom Trowbridge in the Mt. Freedom Presbyterian cemetery in Mt. Freedom, Randolph, Morris County, New Jersey:

Family Bible Information

Augustine Bayles married Elizabeth Freeman (Born May 18, 1775) (Apr 28, 1845)

Children:
Shubael b Feb. 3, 1782 (md) November 23, 1813 Hilda [Huldah] Beers
2. Stephen (b) November 15, 1793 married Judy Coe May 9, 1816
3. Mary Trowbridge born November 28, 1795 married March 14, 1814 John Wheeler
4. Johana born October 18, 1797 married June 13, 1822 Ebenezer Pierson.
5. John born June 13, 1799 died March 18, 1801
6. Lydia born May 10, 1801, married July 24, 1825 Nathaniel Campfield.
7. Elijah F. born July 22, 1805 married December 20, 1831 Temperance Mushmore [Muchmore].
8. David born November 11, 1805 married December 2, 1831 Nancy Lindsley
9. Elizabeth born June 28, 1810 died April 7, 1811
10. Jane Lewis born July 14, 1813 married June 1, 1834 William Harvey Willison
Mary Trowbridge married John Wheeler March 23, 1814
John Wheeler born March 30, 1790 died 1864 at Allamuchy, N.J.
children were:
Elizabeth Wheeler born June 13, 1815
married September 16, 1841 Adam Philips
lived in Independence Twp. Clarkston Pa
Henrietta Wheeler born May 5, 1818
died April 5, 1848
married George Philips Nov. 19, 1844 brother of Adam Philips
George Wheeler born 3/27/1821
I'm Pearl E. Wheeler born Nov. 9, 1908
daughter of William M Wheeler
and his wife (married 8-14-1926 Elmer Dean).
His wife William M. Wheeler (born 1868) son of George G & Susan Blackwell (born 1828)
George C Wheeler son of John Wheeler
(born 1790 died 1864)
his wife Mary Trowbridge (born 1795 married 1814 died 1878
daughter of Augustine Bayles Trowbridge (born 4/19/1767 died 6/7/1845)
his wife Elizabeth Freeman born 5/18/1775 died 4/29/1845)
Augustine son of Shubael Trowbridge 9/3/1739
married 12/3/1765
died 3/12/1782
Mary Bayles
Jabez - July 8, 1769
Justus - Nov. 1, 1771
John - Aug. 12, 1774...
Shubael Trowbridge Was a Private in Captain James Keen's Company Eastern Battalion Morris County New Jersey Militia May 7, 1778"
AUGUSTINE BAYLES TROWBRIDGE DEED
October 1, 1792 Unrecorded deed $20
Ruth Witchell
wife of Jacob Witchell
late Ruth Lofey]
of the first part of Morristown
Auguston Bailey Trowbridge of Hanover Tp. of other part
Witnesseth that the said Ruth Witchell previous to her marriage with the said Jacob for consideration L20-conveys all that tract or lot of land whereon the sd Jacob & Ruth now dwell on Whatnung Mountain in Morristown of sd adj the road. Beg at the post in the road 86 links on course N67 E from a spring that puts out in the said road 88 links from a foot rock in said road the (1) S58 R 5.00 ch(2) N 32 W 2.00 ch th (3) N 58 W 5 ch th (4) N 32 E 2ch to Cant 1 Ac Strait.
her mark.rk
Ruth X Witchiel
his mark
Jacob X Witchiel
Witnesses
John Kirkpatrick, Elizah Taylor, Absalom Trowbridge
THE OBITUARY OF ELIZABETH FREEMAN IN THE MORRISTOWN JERSEYMAN ON MAY 28, 1845
On the 28th ult. on Trowbridge, wife of Mr. Augustin Trowbridge. Mrs. T's death was very sudden and unexpected. In the afternoon she was in this town, apparently in her usual good health. Soon after she came home he left the house, but returned in a very few minutes, found her in a chair, in the agonies of death. He laid her on a bed; she died in a few minutes.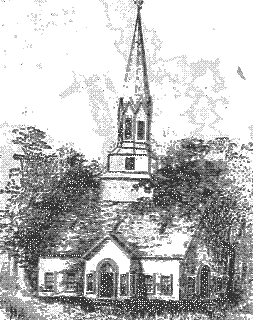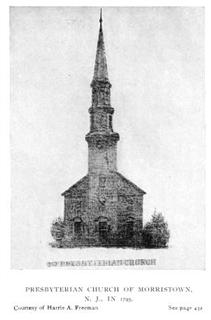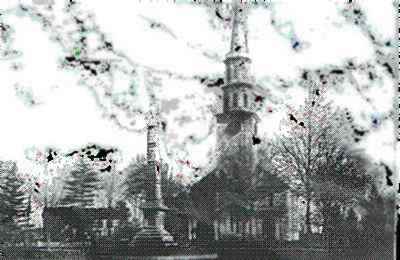 The historic First Presbyterian Church of Morristown as it appeared in during the Revolutionary War (above)
1795 (middle) and the 1800s (bottom). Augustine and Elizabeth were members of this church.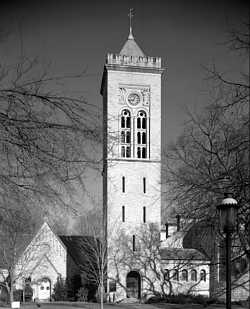 First Presbyterian today as it has appeared after the last renovation in the late 1800's.
OLD PRESBYTERIAN BURYING GROUND, MORRISTOWN, NEW JERSEY
Augustine Trowbridge, his wife Elizabeth, and grandson William Harvey, were buried in the Old Presbyterian Ground in Morristown, New Jersey. The Combined Bills of Mortality, which was kept by first by Dr. Timothy Johnes, (minister to the Presbyterian Church) for the Presbyterian and Baptist congregations, and then by the Presbyterian Sexton, William Moses Cherry, between 1768 to 1806. The list includes Augustine's son John Ross, his father Shubael, his grandparents David and Lydia, and his great grand mother Anne Trowbridge Fairchild. While Augustine's great grandmother Anne was an exception being buried in the Whippany Burial Ground in Whippany, which was next to her home at the Fairchild mill, his son was probably buried in the Presbyterian Cemetery, and the others were probably interred in the nearby Morristown Baptist Cemetery. This cemetery was sold by the Morristown Baptist Church to a developer named McAlpin in the 1880s. McAlpin then moved the gravesto Evergreen Cemetery on Evergreen Road (now Martin Luther King Boulevard) in Morristown. It is unknown if their remains were moved there, and their names do not show up in Evergreen Cemetery records, so their graves may be lost forever. The graves of Augustine and Elizabeth, as well as their grandson William Harvey Trowbridge (son of Elijah Freeman Trowbridge) are located in the cemetery behind the first cemetery gate on the left when you approach from Park Ave., behind the sanctuary of the church. Augustine's headstone is on the ground, with William Harvey's headstone stacked on top of it.tPresbyterian Burying Ground behind the church. Although other Trowbridges maybe buried in the cemetery, possibly Augustine's daughters Joanna and Lydia, the headstones of Augustine, Elizabeth, and William Harvey are the only Trowbridge headstones still standing there.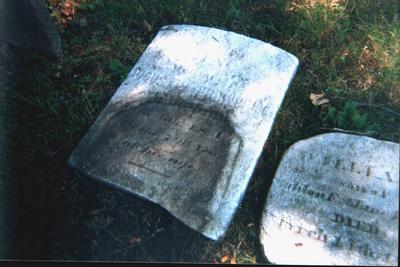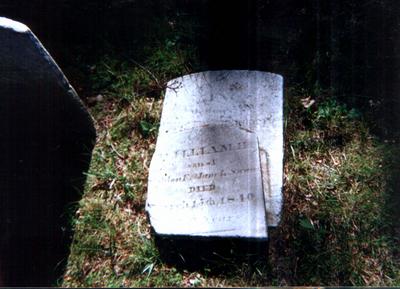 The headstones of Augustine Trowbridge (with another headstone stacked on top of it).
The picture on the right is a close up of Augustine's headstone.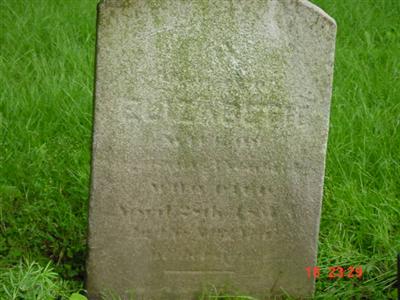 The headstone of Elizabeth Freeman.
(Photo courtesy of Angela Dethloff.)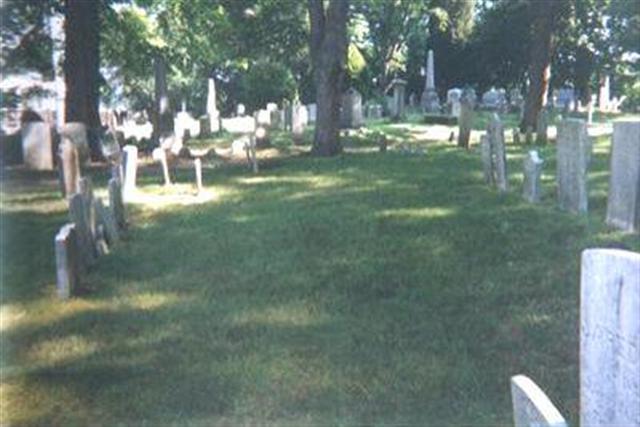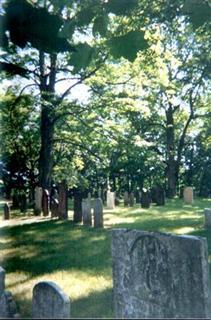 More views of the Morristown Burying Ground.
EXCERPTS FROM "WHOSE WHO IN THE PRESBYTERIAN BURYING GROUND, MORRISTOWN, NEW JERSEY"
"Trowbridge, Augustin--17/18--Husband of Elizabeth Trowbridge, d. 6 Jun 1845, age 79. [Ed. Note: Parker shows originally copied 1815 and corrected by Church Records. CR235 confirm the information shown by Parker and show they "dwelt on Morris Plains." Augustin & Elizabeth were parents of two i.e., Joanna and Lydia].
Trowbridge, Elizabeth--17/19--Wife of Augustin Trowbridge, d. 28 Apr 1845, age 70.
[Ed. Note: Parker shows originally copied 1815 and corrected by Church Records...]."
THE WILL OF AUGUSTINE OR AUSTIN BAYLES, MATERNAL UNCLE OF AUGUSTINE BAYLES TROWBRIDGE
Augustine Bayles Trowbridge was named after his Uncle Augustine Bayles (his mother Marys brother), who named him as a beneficiary in his will:
1782, Jan. 14. Bayles, Augustine, of Morristown, Morris co., will of. Wife Kezia, all personal estate. Brother William, 50 pounds. Adopted daughter Rebecca Morris, now wife of Timothy Goble, my homestead, of 125 acres, after death of wife. If Rebecca should die, then I give her part to my nephew, Augustine, son of my sister Mary, now wife of Shubael Trobrige. Niece, Kezia, daughter of Mose Pierson, and my adopted daughter, 76 acres, which join Joshua Guies in; and if Kezia die before age, then her part I give to Benjamin, son of my sister, Hannah Hathaway. Executors: Wife, Kezia, and my brother, William.
Witnesses: Bethuel Norris, Timothy Johnes, Libbeus Norris.
Proved March 1, 1782 Lib. M. p56