Born: Oct. 3, 1787, Mt. Freedom, Randolph, Morris Co. New Jersey
Died: June 23, 1806, Mt. Freedom, Randolph, Morris Co., New Jersey
Born: 1789, Mt. Freedom, Randolph, Morris Co. New Jersey
Died: May 4, 1796, Mt. Freedom, Randolph, Morris Co. New Jersey
Born: Dec, 31, 1792, Mt. Freedom, Randolph, Morris Co. New Jersey
Died: still living, 1822, Mt. Freedom, Randolph, Morris Co. New Jersey
Notes: F. B. Trowbridge says in 1812, Mahlon was listed as a witness on a deed for his father.
Marriage: May 23, 1822, Mt. Freedom Presbyterian Church, Mt. Freedom, Randolph, Morris Co., New Jersey
Died: still living, 1822, Mt. Freedom, Randolph, Morris Co. New Jersey
Born: around 1801, Mt. Freedom, Randolph, Morris Co. New Jersey
Born: after 1802, Mt. Freedom, Randolph, Morris Co. New Jersey
(F.B. Trowbridge in "The Trowbridge Genealogy" says there may have been other children.)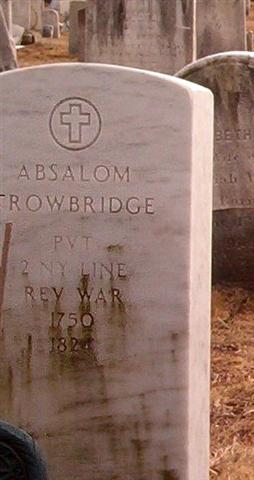 Headstone of Absalom Trowbridge in the Mt. Freedom Presbyterian  cemetery, Randolph, NJ.
ABSALOM TROWBRIDGE
Absalom Trowbridge enlisted in the Continental Army on May 5, 1778, serving in the Fifth Company, 2nd Regiment,the New York Line, under Col. Philip Van Cortland, and was honorably discharged on Feb. 10, 1779.  He was took part in several engagements during the war, including the storming of the fort on Valentine's Hill, near Kingsbridge on New York Island, and was present during several skirmishes in White Plains, New York. He was also possibly the Private Absalom Trowbridge who is  listed as serving in Captain Amariah Babbit's company, Colonel Symonds 3rd Massachusetts Regiment, and is listed on a roll endorsed for service in an alarm in October, 1780, in Massachusetts.

In 1983, the Ferromonte chapter of the Daughters of the American Revolution erected a headstone over Absalom's unmarked grave in the Mt. Freedom Presbyterian Church cemetery in Mt. Freedom, Randolph Township, Morris Co.,New Jersey, commemorating Absalom's service to his country (see the article below).  He is also listed as serving in Captain Halsey's Morristown, Morris Co., New Jersey Militia in 1790 and the Morristown militia of 1793.
Below is from his pension application, which he submitted in 1820:
(Click on each thumbnail for a jpg of each page.)
FROM THE BOOK "A HISTORY OF RANDOLPH TOWNSHIP", SOLDIERS IN THE WAR FOR INDEPENDENCE WHO LIVED OR OWNED LAND IN RANDOLPH TOWNSHIP
published by A.R.B.O.R. from a list for Morris County
by James C. Anderson  & Compiled by Barbara B. Hoskins, Morristown Library)
PVT. ABSOLUM TROWBRIDGE
Continental Troops-New York Regiment
Col. Courtlandt
Lt. Livingston
Enlisted May 1778 at Little Nine Partners,N.Y.
Genealogical Magazine
Pension Application S-33818 $96 a year
Born 1751. Died 1824.
Buried Mt. Freedom Presbyterian Cemetery
1820-Had wife troubled by rhumatism.
His name also shows up on several legal documents in Morristown as a witness.  They range from Trowbridge wills and guardianship papers to the wills of prominent residents of Morristown, such as Henry Wicke, a Morristown farmer who quartered Washington's troops on his property when they stayed in Morristown during the winters of 1776-77, and 1778-80.  But Henry Wicke is better known as the father of Revolutionary War legend, Tempe Wicke
ABSTRACTS FROM THE WILL OF LYDIA HOLMES TROWBRIDGE
"1785, Mar. 19. Trowbridge, Lydia, of Morristown, Morris Co., New Jersey, Morris Co. Widow of David Trowbridge: will of.  All estate, including house and lot of 3 acres  where I now live, and a 3-acre lot in Hanover Twsp., and a 4-acre lot at Watnung Plains, to my son, Absalem Trowbridge. "
Executor-Son, Absalem. Witnesses- Timothy Linsley, John Losen, Cornelius Losen.
pROed Mar. 11, 1812" Signed by a mark.
FROM THE  MORRISTOWN DAILY RECORD  IN 1983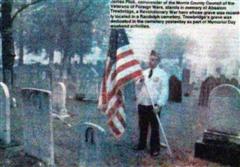 James Plick, commander of the Morris County Council of the Veterans of Foreign Wars, stands in memory of Absalom Trowbridge, a Revolutionary War hero whose grave was recently. Located in a Randolph cemetery. Trowbridge's grave was dedicated in the cemetery yesterday as part of Memorial Day weekend activities .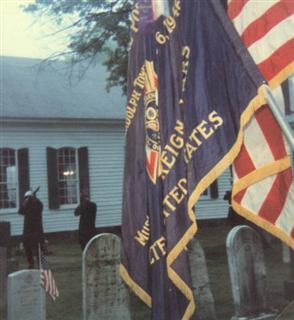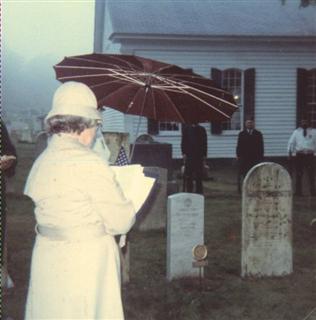 Vets Honor Revolutionary Comrade
By Carla Cantor, Daily Record Staff Writer
RANDOLPH TWP. - Veterans of World War II, Korea and Virtnam honored an unsung hero of the Revolution yesterday with the find of respect they feel belongs to all who have fought for their country. In the pouring rain at Mt. Freedom Presbyterian Cemetery, the men of Veterans of Foreign Wars Post 7333 dedicated the grave of Morristown, Morris Co., New Jersey-born Absalom Trowbridge, who fought in the Revolutionary War as a private in the Continental Army's New York Line. I'm very happy this man's courage has finally been recognized." James Plick, commander of Morris County Council of the Veterans of Foreign Wars and member of the Randolph post, said after the ceremony. "So often a serviceman is respected when there is a need for defense and forgotten when the need ceases to exist." Through efforts of the local chapters of the Daughters of the American Revolution, the unmarked grave where Trowbridge was buried in 1824 was located and two of his direct descendants were present for the ceremony. The three-gun salute over Trowbridge's gravestone, Plick said, is an obligation the VFW post will continue today in honor of all servicemen buried in the nine township cemeteries
Soldier, Farmer, Revolutionary War Veteran Led a Full Life
By Nancy Degutis
If it wasn't for letter from a doctor in California and a descendent interested in genealogy, Absalom Trowbridge's name would have remained as obscure as his grave. Trowbridge, a Revolutionary War soldier who died in Randolph 159 years ago, was honored by the Veterans of Foreign Wars during a rain pelted ceremony Memorial Day in the Mt. Freedom Presbyterian Church. A crisp white slab inscribed with his name and other pertinent information now sits between the graves of his grandfather, and his grandmother, Rebecca, in the quiet church yard. But it took a letter from a Doctor Adams in Long Beach, Calif., to start shedding light on the life of a farmer turned soldier, said George Nas, a Trowbridge descendent living in Orrtanna, Pa. Nas, who grew up in Chester Township, and has done historical research in the area, is the great-great-great-great grandson of the soldier. But the letter that started unraveling the string of events almost disappeared, Nas said. Misreading the address, a postal worker directed it to "Moorestown" where it went to the local historical society. But as luck would have it, someone in that post office saw the mistake and forwarded it to "Morristown, Morris Co., New Jersey", where it went to the local chapter of the Daughters of the American Revolution. Finally it ended up with Nas.  Checking with a cousin, Barbara Cresta of Randolph, Nas found out the DAR was going to honor Absalom.  Through the DAR's efforts, the grave was located in the cemetery, and the federal government agreed to supply the marker. But few outside the family knew the life story of Trowbridge and his ancestor who came to this country from Taunton, Somersetshire, England in 1637.
First Americans 
The first American Trowbridge, Thomas grew up in Massachusetts Bay Colony.  But the Trowbridges left the Colony because of a dispute with the church they belonged to. The family moved on to New  Haven, Conn. And by 1662, Thomas had built Warehouses and Warf, Inc., and had become a prominent merchant, trading with England, the West Indies, and many other ports. Thomas' family grew and  spread, becoming seamen, traders, farmers, and soldiers. Eventually, David, Thomas' grandson, settled in what was then Hunterdon County (now Morris County).  Absalom Trowbridge was born on May 25,  1750, in Morristown, Morris Co., New Jersey, Nas writes in his 1,000 page genealogy of the family.  From the records, the Trowbridges must have been roamers and loved soldiering - 100 of them served in the Revolutionary War.  A 28 year old bachelor, Absalom Trowbridge joined his brethren upon enlisting on May 5, 1778, in the Fifth Company of Lieutenant Livingston's Second Regiment, the New York Line,  under Colonel Philip Van Cortlandt. But oddly enough, he went to Little Nine Partners,  N.Y. to sign up.  Absalom Trowbridge took part in the storming of the fort on Valentine's Hill near Kingsbridge on New York Island.  He was also in several skirmishes on the White Plains. According to Nas' findings, his ancestor was supposed to be a private in Captain Amariah Babbitt's company of Colonel Symond's Third Massachusetts Regiment. He was action again in October 1780,  British uprising in the Massachusets area, records show.  He was discharged from service Feb. 2, 1779, and drew an army pension. When he was 35, he married Phebe Hedges, the daughter of an old Succasunna family. After the war, Absalom Trowbridge came to Randolph to farm on what was then Trowbridge Hill, the land between the Millbrook Valley and Mt. Freedom, where other relatives lived.  And on Sept. 10, 1824, Trowbridge died.

The last article has a few errors. First, Absalom's grave is located between the graves of his grand-nephew David Trowbridge, and David's daughter Rebecca. George Nas is not Absalom's descendent, but a descendent of Absalom's older brother Shubael, and he did not write the 1,000 page genealogy cited by the reporter.  The genealogy referred to was George Nas' copy of the Francis Bacon Trowbridge book, "The Trowbridge Genealogy", published in 1909. And of course the references to Thomas were actually Thomas, Jr., Thomas Trowbridge's son and not a direct ancestor of Absalom or any of the Trowbridges from Randolph.
THE END OF THE WORLD IN MORRIS PLAINS
From "The History of Morris Plains" by Julia Beers
"A man who would be over a hundred years old, if he were living today, told me the following story that took place in the 1830s: His family were awakened one night by Absalom Trowbridge who lived near them.  He came to tell them that the world was coming to an end!  The stars were falling as thickly as snow flakes. Persons now living had the testimony of eyewitnesses that this phenomenon continued until daylight. The boys parents were deeply religious and awaited the outcome calmly and with faith.But the son was much frightened at this time.  Yet it had this effect on him: he never feared any manifestation of nature after that."

Unless Julia Beers got the names wrong, this incident, obviously a meteor shower, would have to occurred before before Absalom's death in 1824, since he was the only Trowbridge named Absalom living in the Morris Plains/ Mount Freedom area at the time. Other members of the family named after him, his son Absalom II, died in 1801, and two nephews named after him, the sons of Absalom's brothers Samuel and Crispus,lived in Virginia and Canada.