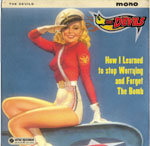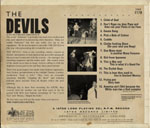 How I Learned to stop Worrying and Forget the Bomb
We have made an LP with the help of IATDE records and we hope you like it as much as us.
The tracks are:
1. Child of God
2. Don't Rape my dear Papa and then rub your Penis in my Face
3. Ewans Song
4. Pick a Bale of Cotton
5. Cuddle
6. Clothe Fucking Slave (On your soul you Reap)
7. One Mans meat is another Mans Forearm
8. Girl from Ipanema
9. This is War and This is what its Good For
10. The Stylist Says
11. This is how they used to live in Ancient Mexico
12. Frying pan Sexy man
13. White man has a God Complex
We recorded it at the legenary 1in12 club during the spring months of 2003. It was produced by Brian Talbot.


This is a list of the samples used in the album.
Child of God
Starts with Roy Ayers –"Daddy Bug" which subsides to a loop of Curt Flood, the American Baseball Player talking about racism, and his treatment at the hands of Southern Whites. An incredible man, his voice alone makes me want to weep.

Don't Rape my dear Papa and then rub your Penis in my Face
Begins with a sample of Leadbelly, the blues singer performing "Black Betty". Over top of this comes in a sample taken from an interesting motion picture called "Black Gestapo". It is part of the Blaxploitation genre of the 1970's and is itself a curious examination of the corrupting effect of power.

Ewans Song
The sample that starts this track comes from a documentary film by the Hughes Brothers called "American Pimp". I'm sure you can guess the subject matter of this production, and many people feel that it glamorises that field of work, but people who think that are ill educated scum. The person explaining his profession is named Rosebud (like the sledge in Citizen Cane).
The track finishes with the magical Pam Grier, performing in the 1972 feature film, "Coffy".
Pick a Bale of Cotton
This is our interpretation of a song once recorded by Leadbelly, and actually does contain a looped sample of him playing at the beginning, and throughout the whole track.
"When we were Kings" supplies all the samples that wrap up this song. The words are spoken by Muhammad Ali's trainer and the boxer Joe Frazier, who would himself battle Ali three times. It is incredible to think what George Foreman was before this fight and what he has become since.

Cuddle
The song ends with Robert Openheimer talking about the testing of the first atom bomb on July 16 1945. He is truly one of the most lost people of the twentieth century. Many more people have had it worse, but he affected people's lives the World over. Even the American government turned their backs on him.

Clothe Fucking Slave
The chimp sample comes from the 1950 film "Sunset Boulevard" that is a beautiful examination of fame and Hollywood, and whose main character is already dead before the film starts. You have to love William Holden.
The Va Va Voom sample comes the Robert Aldrich film noir classic "Kiss me Deadly". Both these films should be on your 'watch before I die list'. Dickheads.

One Mans meat is another Mans Forearm
This contains a line from the 1967's Spy comedy "The Presidents Analyst". Great film, mainly for the midgets.

Girl from Ipanema
It uses a looped sample of Sammy Davis Jr doing a version of this superb tune and then ends with a line from the contemporary film "Happiness". Watch everything by Tod.

This is War and This is what its Good For
All the samples in this song are taken from an LP called "Marches, Songs, Speeches- Nazi Germany WWII" off the Audio Masterpiece label. Very informative.

The Stylist Says
The man speaking at the beginning of this track is the fictional character Hank, from the American TV programme "The Larry Sanders Show". I like to laugh. Do you? The main beat in this song is taken from the Winston's "Ahem Brother". A truly wonderful funk classic. It also contains excerpts of Judy Garland's "Danny Boy", Blind Willie Johnson "I know his blood can make me whole", and Merle Haggard's "War". The whole number finishes off with George E Scott performing in Kubrik's "Doctor Strangelove".

This is how they used to live in Ancient Mexico
This contains a sampled theremin, which is originally being played by one of the devils. This track ends with an excerpt from Richard M. Nixon inaugural address. Great Guy.

Frying pan Sexy man
In this song the two spoken samples are taken from "French Connection" and "Eating Raoul", I'll let you decide which is from which. The harmonica is taken from Black Sabbaths "The Wizard". Good song, maybe should do a cover version of it?America ain't shit because the

White man has a God Complex
This contains two samples that both relate to the title of the Song. The first is The Last Poets "White's got a God Complex" and the other is taken from the film "Being There". This should be everybody's favourite Peter Sellers film and it contains an obscure reference to the title of this song. The other sample thrown in between these two, is U.S Airforce Commander, Jack D. Ripper played by Sterling Hayden, again from "Doctor Strangelove". I am bored with you.
download lyrics