Flint Info
Brian Morrissey baren1@aol.com or FlintNORML FlintNORML@globalhemp.com
We are expecting awesome march in Flint this year.
Noon-Dusk including 9 musical acts, speakers, and a 4:20 march to City Hall

First Saturday Of May
Summery Of 2003 Event seen on ABC12!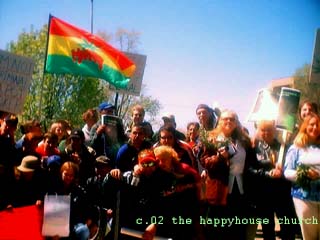 10 Am-12:00, Gather BTW Flint Municiple Building AND Riverside Park
fill every corner-the more you want to march, the closer to the park
Focus on corners and traffic, stay on the sidewalk.
No full frontal nudity. Well Maybe THAT....
Proceed to the Municiple Bldg at 12:30
12:30-1 Sidewalk March to Riverside Park
1 to 2 at Riverside Park: Speakers and Bands
The Caravan for Lansing/Detroit must depart Before 2
Confirmed Speakers:
Rev Happy: MC
Brian Morresy: Grand Marshel
Harley Mikelson: Green Party Candidate
Invited: ACLU Flint
YOU!
Featuring Flints Own KSK: www.kineticstereokids.com
NO POT SMOKING UNDER THE BRIDGE!!!
Flip Off Fang:Flint March History
Venue PENDING For Fundraiser
Local Bands that kick Pot Prohibition's Ass:
Rev Right Time - Ten Inch Skillet - Kinitic Stereo Kids - Crotch - Glowb
Bring signs or come early to make your own.
Drums, chants, costumes, and benevolent drama highly encouraged.
This is not a "Smoke Out"
Leave your pot at home or in your car
But bring your cleaned Bongs, papers, rolling tobacco and herbal blends
just in case you wanna burn something.
Anti-Marijuana Zealots:
Please don't come and fight with us in the streets of Flint. Peaceful protest, please.
*For Auction*: 2002 March Poster signed by
Micheal Moore, Steven Hagar, or Adam Brooks
(bidding starts at $1000, I'd like to keep them, but will give it to the highest bidder for the movement)

And just plain donations Accepted,
e-mail: legalizemichigan@yahoo.com
Flints Finest Monthly Music-zine:
The Pit Monthly www.pitmonthly.com
Thanks For Offering to Print Our Shirts!
apparel • quality printing • graphic design
(810) 232-2887

for giving me a good reason to go to Flint in the first place
Canabis Culture Magazine
for the stuff to pass out at the event event!!! A few issues of CC#42(may) still available
Teasers & Deja Vu
For Hosting our Fliers, and potentially for supplying MARIJUANA CHEERLEADERS!!

WBNN Flint
I got Eric and Carson WASTED hyper on Bongwater Energy Drink, hahaha!
Partial interview on tape for $4.20
Rev Right-time
and the First Cuzins of Funk
for.... just being where...and thanks for leading me to MoDoggies in Fenton!
Flint ACLU
for fighting student drug testing in Michigan
Paradise Express
For being the last BONG store in Flint
(for tobacco use only)
Flint Green Party
Thanks for contesting my two issue candidacy for the 84th Seat of the State House
--Corruption supports the War on Marijuana, We can not conqueor "drugs" or terrorism,
until we destroy the corruption that encourages them. We need a "War On Corruption"!!!
---Rev Happy
The Michigan Libertarian Party
for providing the first confirmed speaker
CK 105.5
Thanks for the 8:30 am interveiw on May 1st, it was worth staying up for!
The Flint Journal
For printing an Article on the March in the Monday, April 29th,2002 issue
MARIJUANA CHEERLEADERS WANTED!
Teasers, Deja Vu, Im talking to YOU!
Cheers:
Hey hey, Ho Ho, these racist laws have got to go
Build Schools Not Prisons
Hemp Hemp Hooray!
Peace Not Greed -Legalize Weed!
Smoke Pot, Not Iraq
Drop Bongs, Not Bombs
The "You Are My Sunshine song"
Smoke Two Joints
Mara-Marijuana