Flint Info
First Weekend Of May 2003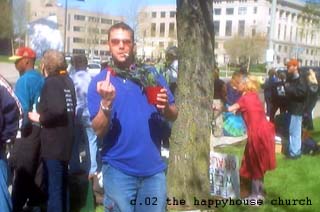 Flip Off Fang
Or You're Next!
A full day event, rather then a stop in the day of driving.
We have an amazing location in downtown Flint to be able to pull an awesome march off.
Consider this:
Meeting early (11 or noon) at the riverfront park (complete with stage and arena type seating. Here we will have speakers (possibly guys from POFDLR, GP, etc) and a quick set of music (similar to the bash).
After the speakers are done we will march like 3 or 4 blocks to City Hall where the march was held last year. At city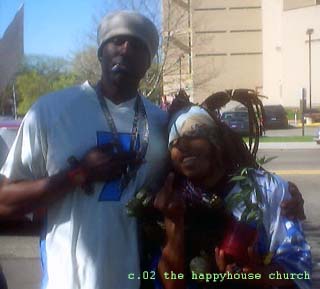 hall we will have a couple of barrels of water for refreshment, along with some fresh fruits/veggies donated to or fundraised by the flint local 420(I like this term :). With fruit and refreshments people will be able to stay longer without getting dehydrated or hungry and be able to enjoy a day of drumming, chilling, and picketing passerby's on the road.
Along with refreshments perhaps a few tables set up with fundraising merchandise and group specific information (for instance GP, LP, SP, along with MMM and MINORML) could all man informational tables.
Perhaps even have our guest of honor(speaker/s) at a table where individuals could come talk to them in a more personable setting then just listening to them over a megaphone.

I realize that you have your heart set on making some trips that day, but I feel we would be more effective growing locally, rather then transporting our locals to some other local.

About bands for a fundraiser, check out www.kineticstereokids.com , if you can download a few songs from there new album (I recommend times are ruff, and mindfuck) these guys are some funky guys, with a style there own. I have gotten some positive feedback from these guys on the possibility of them doing a fundraiser.

Brian Morrissey Producer 2003 march

2002
Flint Marijuana March an Overwhelming Success!
by Rev A.S. "Happy" Wright, Thumb Area MMM
copyright 2002 The Happyhouse Church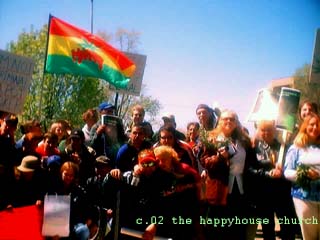 Spectacular showing for Flints first Marijuana March!
A Lone dissenter showed up at the rally, and I respect that person for having an opionion, although I feel the press may have brought him for "balanced reporting". There was some heart-felt debate, but no incidents of violence, only outrage.
Over 120 Marchers showed up to the municiple building in Downtown Flint, representing all parts of the Movement. At one time, maybe 11:30, we had over 90 people standing up for your, and our civil rights. By far, medicine was the overwhelmingly held position, but religion, hemp, and recreational use were all amply represented. One person brought a sign that said, simply "GOD does NOT make mistakes", which was my favorite. At 10:01 there were three of us there, including a -real cutie- who "staid the course", and marched with us in Lansing, even getting up on stage with Adam Brooks.
By 11, there were more then fifty of us at the Municiple Building. I guess "potheads" CAN get up at 10am for a protest! We showed Flint, the Thumb, and maybe even the whole world that we are ready to change the laws, sick of being being demonized, and not afraid of persecution! Next Year Flint will meet at the same place, and march on Saginaw street. This year was more rally then march, and as that, it worked.
From Flint, two caravans departed to Lansing and Detroit. About six of us went to Detroit, but around 30 went to Lansing. I can't say much for Detroit because Prof. Hemp did below, but Lansing was massive, and the speakers all did much better then I expected. The March itself, at one point, covered over three blocks in length with flags flying, signs bouncing, cheers ringing, horns honking and banners waving. All in all, I hope we showed that several marches can build a better Lansing march, if timed right, and motivate more local communities to fill the ranks both locally, and in Lansing. Flint was a better rally, but Lansing is the real march. Now if we can only do the "afterparty" in Detroit, and encourage speakers to speak at three events in one day, locally, Lansing, and Detroit. Several rallies to find people, a march in Lansing, and a party in Detroit.
I would like to thank everyone who was intregral and involved in Flint; Adrienne, WBNN, Cannabis Culture, Rev Right Time, Rochstone, Joe, Roxanne, Dan, Steve, Tanya, Ken, The Red Shed, The Green Party, Jan and Mikey, the Guy with the THC banner in the Jail, and The Entire Flint Local 420, and WNEM and MLIVE, because bad press, or no press, or even censorship is much better then the weak coverage you woulda given(I have a photo of Jay Brandow at Hash Bash looking disgusted!!!"!
Thank you TV12 and The Flint Journal for giving such comprehensive and impartial coverage to the Flint Marijuana March. Not only did TV12 give us the #1 spot on the six o'clock news, but they did an excellent job in presenting both sides of the issue. The 11 o'clock story was a model of editing, and whoever cut the footage deserves a few pat's on the back! As an added bones, Lindsey was a REAL cutie, and I was glad not only to meet her, but that she distanced herself from her opionion. I din't really know what side she was coming from.
The Flint Journal is responsible for most of the crowd, and does deserve my sincerest thanks. One front page story is worth a thousand fliers, I guess. Not only did the journal provide a before story, but followed through with an actual report from the march afterward. Both of these news agencies are a credit to honest reporting, in contrast to WNEM, TV5, which is a discredit to the same, intentionally blacking out the event. Shame on you TV5, the people are on to the "controlled press", such as yourself! Sometimes saying nothing say's something, and TV5 said "We could care less what YOU the VEIWER think!" The listerners of "The Banana" let me know, they showed! How cool...
The Flint police have my top hat off to them, they were at the least vigilant, and at the most supportive. One, in fact, told me that if he did spot a pot smoker, he would come tell me, to "Take Care of It". I felt the police were there more to protect marchers from violent prohibitionists then the city from "crazed pot smokers!" Thank you Flint Police for helping me bring this off without a hitch.
Peace and Determination,
Rev Happy
Pictures and more to be posted soon
http://ilma.orgfree.com/legalizemichigan/flint.htm
Marchers voice the need for legal weed Sunday, May 5, 2002
By Joe Lawlor FLINT JOURNAL STAFF WRITER
http://www.mlive.com/news/fljournal/index.ssf?/xml/story.ssf/html_standard.xsl?/base/news/1020603004113313.xml
Marijuana rally held Saturday at City Hall
Those at rally say smoking pot is their God-given right
ABC12 Photojournalist Alex Atwell) By Linsey Davis
http://abclocal.go.com/wjrt/news/050402_NW_da_pot_rally.html
Pro-pot movement has high hopes in Flint Monday, April 29, 2002
By Marlon Vaughn FLINT JOURNAL STAFF WRITER
http://www.mlive.com/news/fljournal/index.ssf?/xml/story.ssf/html_standard.xsl?/base/news/1020102601160260.xml
Flint Coverage Archived at:
http://forums.delphiforums.com/n/mb/message.asp?webtag=mmm420&msg=146.1

---
Lansing Soon to be posted-rev happy
What is Ibogain?
Not From Michigan? Find a March in YOUR location!
http://www.millionmarijuanamarch.org/navigator.php
Gather at 10 AM At
Municiple Building
Sidewalk March until noon,
groups of five to be dispersed throughout Downtown
FREE MARCH POSTERS AVAILABLE
with any contribution, suggested $4.20
March With Your Vehicle
Materials will be availabe to "decorate" your vehicle to promote the march
Show up too early, Patrol the city, spread the word, pick up stragglers!
Speakers from noon until one
at the Municiple Building or Riverside Park
Transportation to Lansing and/or Detroit March provided for a $4.20 contribution,
exceptions made for the destitute. Please Reserve your seat or volunteer your vehicle!
This will not end the Flint March, if I can find a Director to take over in my absence.
Bring signs or come early to make your own.
Drums, chants, costumes, and benevolent drama highly encouraged.
This is not a "Smoke Out"
Leave your pot at home or in your car
But bring your cleaned Bongs, papers, rolling tobacco and herbal blends
just in case you wanna burn something. Bong hit/Best Bong contest possible!
MARIJUANA CHEERLEADERS WANTED!
Teasers, Deja Vu, Im talking to YOU!
Bands Still Wanted for 2003 March Fundraiser
Three to Five bands have thrown their hats in for a Fundraiser,
all I need is a location to hold this event.
Common Sense Mayors Candidates Wanted to Speak
If you are still pushing the disproved "Gateway Theory", you'll lose.
If you are a winning candidate, count on the youth, educated, anti-prison state,
and pro-democracy vote by speaking at this event!
Hey Flint ACLU, Flint NAACP, Progressive Campaigns, or any other Candidates:
If all other speakers are derelict in their duties, or afraid to show up,
YOU GET AN AUDIENCE TO YOURSELF FOR AN HOUR!
Confirmed Speakers:
Charles Goode, Libertarian Party
YOU!
Anti-Marijuana Zealots:
One hour of freindly debate will be accessable btw. noon and one.
Please don't come and fight with us in the streets of Flint. Peaceful protest, please.
Marijuana March Weekend
a fundraiser will be held for a $4.20 cover
Hemp/Tie Dye fashion show
Sign Making
Confirmed Bands: Rev Right Time and Skin Casket
Unconfirmed: Captian Marvel
Bands, send us your demo's
Prospective Locations: The Machine Shop, Bucham Alley Teasers or Outdoors
Contact:
Rev. Happy
happy_hempster@yahoo.com
(989)872 8005
Please Help Fund This March!
Cotton T-Shirts for$20
Hemp T-Shirts for$20
Fake Pot Plant for$20
Grocery Tote for$20
Nylon Marijuana Leis:$5
Silk Marijuana Leis:$7
Activists:Buy in Bulk to help your local efforts
*For Auction*: 2002 March Poster signed by
Micheal Moore, Steven Hagar, or Adam Brooks
(bidding starts at $1000, I'd like to keep them, but will give it to the highest bidder for the movement)
And just plain donations Accepted,
e-mail: happyhouse@excite.com

for giving me a good reason to go to Flint in the first place
Canabis Culture Magazine
for the stuff to pass out at the event event!!!
Teasers & Deja Vu
For Hosting our Fliers, and potentially for supplying MARIJUANA CHEERLEADERS!!
Marijuana Leis will be available at Teasers on Grand Traverse,
WBNN Flint
&esp. Eric Thomas for giving me an Hour of Power on the Banana!
(wait, that sounds weird)
Smoke a Banana, GO TO JAIL!
(oh, shut up)
Rev Right-time
and the First Cuzins of Funk
for.... just being where...
Flint ACLU
for fighting student drug testing in Michigan
Teasers & Deja Vu
For Hosting our Fliers, and potentially for supplying MARIJUANA CHEERLEADERS!!
Marijuana Leis will be available at Teasers on Grand Traverse
Paradise Express
For being the last BONG store in Flint
(for tobacco use only)
Flint Green Party
hopefully, for supporting my two issue candidacy for the 84th Seat of the State House
--Corruption supports the War on Marijuana, We can not conqueor "drugs" or terrorism,
until we destroy the corruption that encourages them. We need a "War On Corruption"!!!
---Rev Happy
The Michigan Libertarian Party
for providing the first confirmed speaker
CK 105.5
Thanks for the 8:30 am interveiw on May 1st, it was worth staying up for!
The Flint Journal
For printing an Article on the March in the Monday, April 29th,2002 issue
Directors Needed
Cheers:
Hey hey, Ho Ho, these racist laws have got to go
Build Schools Not Prisons
Hemp Hemp Hooray!