---
Early Fortification Plans (1781 - 1798)
The years from 1781 and 1794 were uneventful from a military perspective in Rhode Island. In July of 1794 the U.S. Army placed a garrison at Fort Liberty (aka. Wolcott) which marked the beginning of the federal military presence in Newport which continues to this day. That same year a Frenchman named Stephen Rochfontaine, a Major in the Corps of Engineers, was placed in charge of planning fortifications in the northeastern United States.
After visiting Newport, Rochfontaine called for Fort Wolcott to be armed with 20 guns and four guns on traveling carraiges to be placed in Newport which could quickly respond to any emergency (such as an amphibious landing on Easton's Beach). (American State Papers, Volume 016.)
It was also decided that Narragansett Bay should be defended by several forts which would include the fort on Goat Island, Fort Greene in the Point section of Newport (today known as Battery Park), a fort on the Dumplings in Jamestown (commonly known as Fort Dumpling) and a fort on Brenton's Point, as it was referred to in those days, at the entrance to the harbor.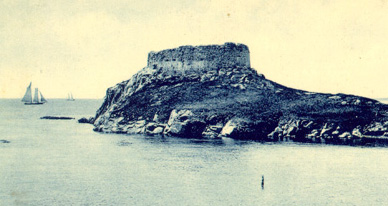 Fort Dumpling, Jamestown, RI c. Late 1800's.
Fort Dumpling (also known as Fort Louis or Fort Brown) in Jamestown was more notable as a landmark than a fortification. It was a round tower about 50 feet in diameter and about 20 feet tall. It stood on the high ground where the Jamestown Department of Public Works yard is today. It was a common motif for artists and features in most partraits of the approaches to Newport Harbor made in the 1800's. In an official report dated December 11th, 1818 it was listed as being armed with 10 guns which were probably emplaced during the War of 1812. However, there is no evidence that it was ever garrisoned or figured in defense plans for Newport after the War of 1812.