!!! GEOCITIES IS CLOSING DOWN THIS SITE ON OCTOBER 26, 2009 !!!

FORT FOSTER
Portsmouth Harbor,
Kittery Point, Maine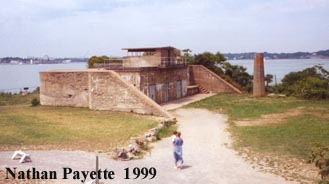 Battery Chapin at Fort Foster.

---
---
Please send comments and suggestions to:
pete at northamericanforts.com
Pete Payette
(fight SPAM! replace "at" with "@" and delete spaces in email)
This chapter last updated: 10 April, 2005

Copyright ©1999-2005 by American Forts Network
All rights reserved.
THIS WEBSITE IS NOT AFFILIATED WITH ANY STATE OR MUNICIPAL AGENCY
contact Town of Kittery for group reservations
emails to me regarding reservations will not be answered