History of Fort Foster
1873-1948
The land for Fort Foster, located on the southwest tip of Gerrish Island in Kittery, Maine, was acquired by the federal government in 1872, making this fort the last of the "old" forts that were built in the Portsmouth area.
The Pre-Endicott Period
The first fortification here, planned in 1873-76, was to be a "Fourth System" 12-gun earthwork and concrete battery known as Battery on Gerrish's Island, or Battery Berry (in honor of Major General Heiram G. Berry of Maine, killed in action in Virginia in 1862), similar to the work that was begun at Fort Stark. It was never fully completed. The parapet and gun platforms were built, but only two traverse magazines were completed. After minor work was again attempted in 1879, it was abandoned. No trace of it exists today. It was located in the area of where Battery Bohlen was later built.
The Endicott Period
In 1899 construction was started on new concrete batteries to help protect the Naval Shipyard in the aftermath of the Spanish-American War. In 1900 the site was officially named Fort Foster, after Civil War era Brevet Major General John G. Foster of New Hampshire, and the post became a sub-post of Fort Constitution. Battery Henry Bohlen was completed in 1902 (named in 1904, in honor of Brigadier General Henry Bohlen, killed in action in Virginia in 1862), and consisted of three 10-inch 35 cal. breach-loading rifles, Model 1895, serials 1, 13, 14 (Watervliet Arsenal), on disappearing carriages, Model 1896, serials 69, 70, 65 (Walker Co.). Two Hodges back-delivery projectile hoists were installed to supply the shells up to the guns.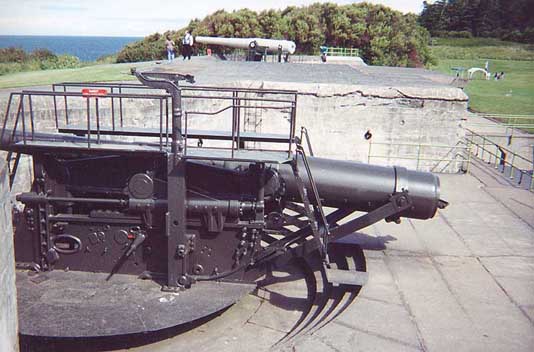 photo by Dan Rowbottom, Coast Defense Study Group
Restored 10-inch guns on D.C. carriages,
located at Fort Casey, Whidbey Island, Washington.
See the Fort Casey website by Gary Higgins, for more information on these guns.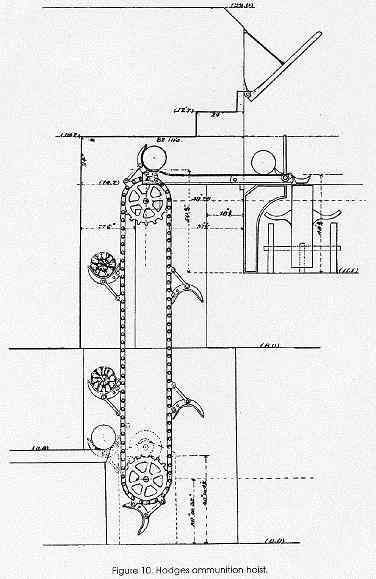 courtesy of Coast Defense Study Group
A diagram of a Hodges Ammunition Hoist.
Battery Edward Chapin (in honor of Brigadier General Edward P. Chapin, killed in action in Louisiana in 1863) was completed in 1904, and consisted of two 3-inch shielded rapid-fire guns, Model 1902, serials 37, 38 (Bethlehem Iron Co.), on pedestal mounts, similar to Batteries Hays and Lytle at Fort Stark. The two-story wooden Secondary Mine Observation Station (M") was built in 1909 behind Battery Chapin, which complimented the primary mine station (M') at Fort Stark (which was later moved to a two-story wooden station at Fort Constitution). They were used to triangulate the position of ships in the harbor mine field. All that remains today is the tall concrete pedestal base for the depression-position range-finding (DPF) instrument. A few other structures were also built during this time, including the 560-foot pier jutting out into the harbor (since rebuilt).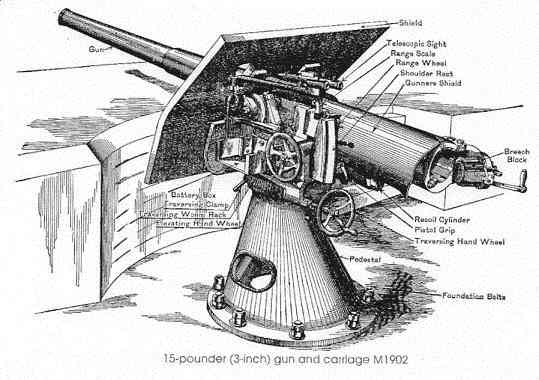 courtesy of Coast Defense Study Group
A diagram of a M1902 3-inch gun.
In 1905 - 1907, the fort was officially garrisoned by the 124th Company, U.S. Coast Artillery Corps, and then afterwards, except during World War I (1917 - 19), was never actually manned by more than a caretaker unit from Portland, Maine (Battery E, 8th Coast Artillery Regiment (Harbor Defense), U.S. Army) until World War II.
World War I Era
In 1917 all three guns of Battery Bohlen were removed for the intended purpose for use in France, but they were never actually shipped out. They were remounted in place in 1920. They were reported to have never worked right afterwards, with the #3 gun completely unserviceable by 1940. Also in 1920, a Coincidence Range-Finder (CRF) station was built atop Battery Chapin, along with similar structures at Fort Stark and Fort Constitution.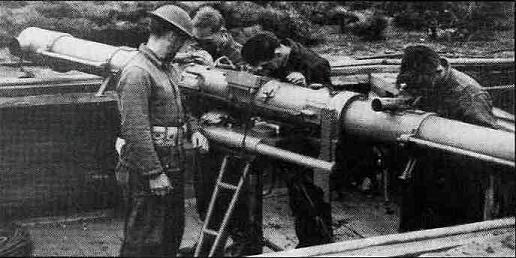 courtesy of Presidio Army Museum
A height-finder instrument, very similar to a CRF instrument.
Located at Fort Funston, San Francisco, CA.
Two truck-mounted 60-inch Sperry searchlights were kept at the fort in 1920, to be emplaced at Seward's Point when needed (harbor positions #6 and #7), but were shipped to Fort Totten, NY in 1921. The searchlight shelter adjacent to Battery Bohlen was built in 1922, with a rail track to the shoreline for a rail-car mounted 60-inch Sperry light (position #5, later #12 in WWII).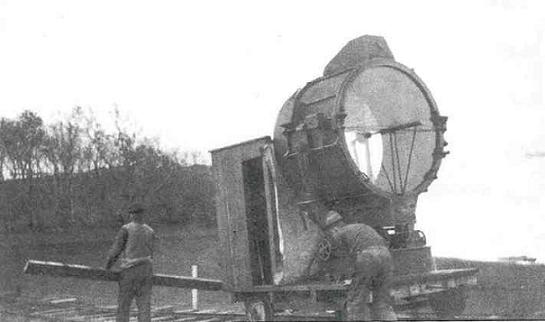 courtesy of Nahant Historical Society
A 60-inch searchlight mounted on a rail-car, circa 1918.
Located at East Point Military Reservation, Nahant, MA.
Also in 1922, the two Hodges hoist systems in Battery Bohlen were replaced with three General Electric Taylor-Raymond back-delivery ammunition hoists. An open-top concrete secondary fire-control station for Battery Bohlen (B") was built on Seward's Point in 1921. It still exists, now located on the private Delano Estate. (See World War II Towers)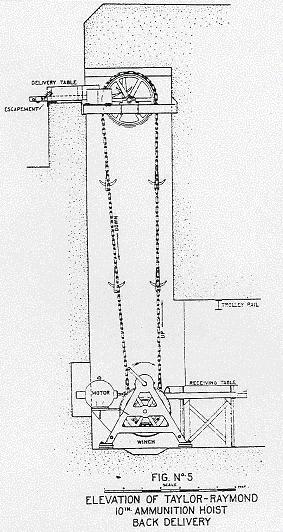 courtesy of Coast Defense Study Group
A diagram of a Taylor-Raymond Ammunition Hoist.
World War II
In 1940 the U.S. Army Fortifications Board recommended that a new battery, to be known as Battery Construction No. 205, should be built atop Battery Bohlen's #1 and #2 gun emplacements, but that idea was turned down in favor of building an entirely new battery. In 1942 additional land (the site of the old Pocahontas Hotel resort, 1885 - 1904, torn down in 1921) was purchased for the construction of this new battery, which was to have two M1 6-inch shielded guns on M4 barbette carriages, serials 9, 10 (Watertown Arsenal), nearly identical to Battery 204 at Fort Dearborn. However, by 1944 the battery, although essentially completed but without the gun tubes, was decomissioned. The proposed name for this battery was to be Battery Curtis (in honor of Major Edwin S. Curtis).
See two excellent websites, one by Andy Bennett, on the The 6-inch Shield Gun, and the other by Matt Hunter, on Sitka's 6-inch guns to see what this battery would have looked like.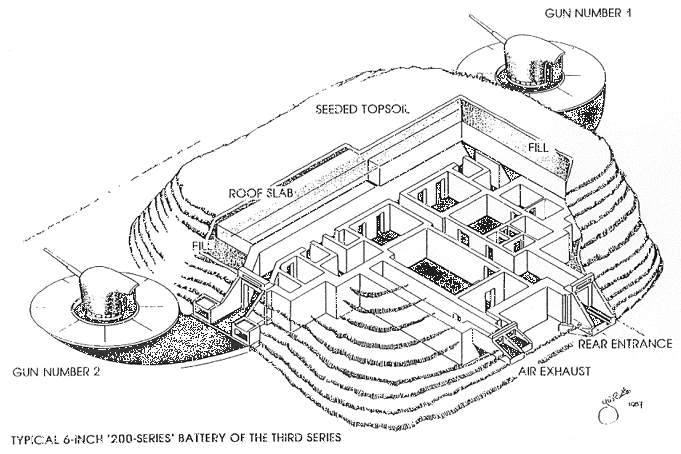 drawing courtesy of Gerald Butler, Coast Defense Study Group
Cutaway view of Battery 205.
The gun carriages and shields were installed by 1944, but the two gun tubes were never delivered.
Additional construction included a new mine casemate to supplement the one at Fort Constitution (by controlling the outer line of mines), a double mine observation tower (two observation stations, one for the Mine Group Commander (MG 1 OP) and the other for the new M2 station), a Battery Commander's Command Post and Observation Station behind and to the left of Battery 205, several barracks, a mess hall, and other buildings. A new concrete bridge was built on the north side of the island to replace an older and weaker wooden bridge. An additional tower, a Base-End Station, was constructed east of the fort on Sisters' Point, but this was not actually a part of Fort Foster, rather it was under the umbrella of the Portsmouth Harbor Defense Command. (See 1945 Harbor Mine Defenses for maps and photos, and also see World War II Towers)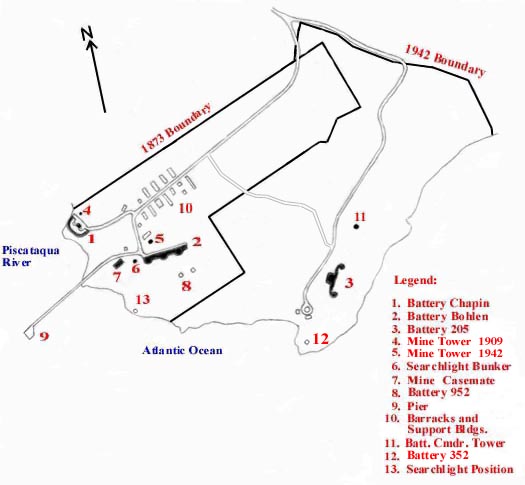 Map based on 1945 U.S. Army Corps of Engineers site-map.
The 22nd Coast Artillery Regiment (Harbor Defense), U.S. Army manned Fort Foster with 103 men from 1940 until 1942, when Battery Bohlen was decommissioned and scrapped. Anti Motor Torpedo Boat (AMTB) Battery 952 was built in 1943 in front of Battery Bohlen, and used until 1946. It consisted of two shielded fixed-mount 90mm M1 guns, two mobile 90mm M1A1 guns (in storage at Fort Dearborn), and four 50 cal. heavy machine guns, which defended the anti-submarine and anti-motor torpedo boat net stretched across the harbor from here to Fort Stark. The AMTB cribworks to Wood Island can still be seen today at low tide. A picnic shelter has been built over the #1 90mm gun mount. Another AMTB battery, #951, was built at Pulpit Rock, just south of Odiorne's Point in Rye, New Hampshire. (See Pulpit Rock Camp) AMTB Battery 352 was set up on the south point near Battery 205. It consisted of two 37mm mobile guns, later replaced with two 40mm M2 mobile guns, along with a dedicated searchlight. AMTB Battery 351, similarly built, was also set up at Pulpit Rock. Two additional automatic 40mm M2 mobile AA guns and two 50 cal. heavy machine guns were emplaced around Battery 205 for land and air defense. The magazines in Battery Bohlen was used to store the ammunition and powder for the AMTB batteries.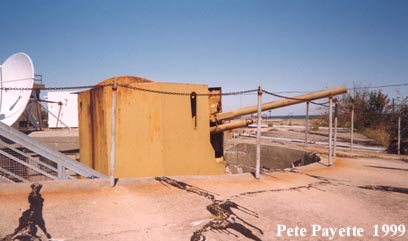 A 90mm shielded fixed-mount AMTB gun
located at Fort Monroe, Hampton, Virginia.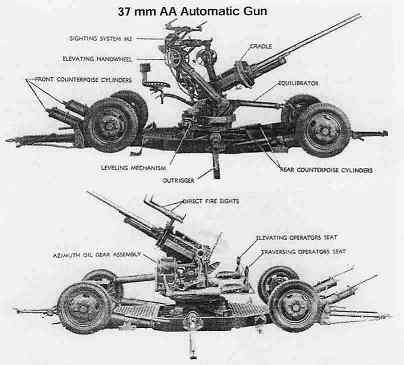 courtesy of Coast Defense Study Group
A diagram of a mobile 37mm AA gun.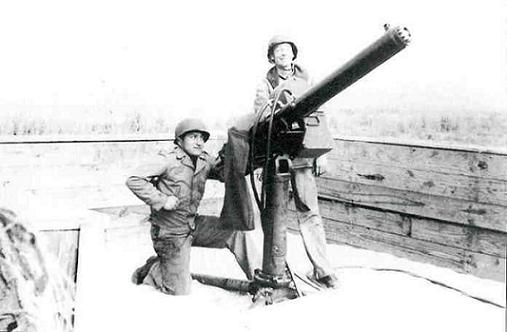 photo by Louis Salza, courtesy of Gerald Butler
A drum-fed 50 cal. heavy machine-gun, used for AA and AMTB roles.
Located at Sagamore Hill Military Reservation, Cape Cod Canal, MA., circa 1942.
Post Military Period
The fort was closed in 1948, and every remaining weapon was scrapped. The U.S. Navy then used the reservation for recreational purposes for Naval Shipyard personnel into the 1950's. The federal government later transferred the original area taken in 1873 to the Town of Kittery's Public Works Department for park purposes, but the newer portion was bought by Kittery at a later date. The entire park is 88 acres. The Kittery Parks Division had the lower level of Battery Bohlen filled in with soil sometime in the late 1980's. Battery Chapin's earthen berm was removed much earlier, probably by the Navy in the 1950's. Admission to the park is $5 per person, and $10.00 per vehicle. Restrooms, picnic facilities, and swimming beaches are on grounds. There is no interpretation of the military structures, except for a simple flyer handed out during the summer to visitors upon entering. All buildings are closed to the public, except the Mine Observation Tower, which is used as the public restrooms. The upper level is sealed off.
Official website of the Town of Kittery's Fort Foster Park policies and regulations.
From various vantage points around the fort, especially on the pier, all of the harbor forts can be seen from here, as well as Whaleback Light (1872), and the old, abandoned Portsmouth Harbor Lifesaving Station (1908-1948), located on Wood Island, which will soon be restored.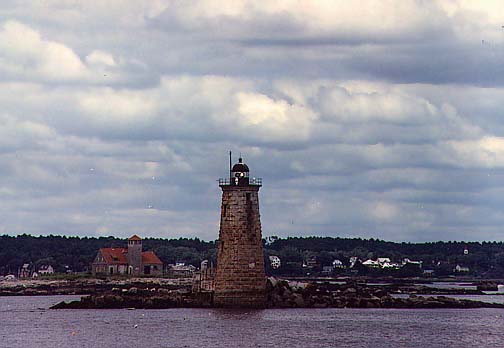 photo by Jeremy D'Entremont of Coastlore Productions
Whaleback Light and Wood Island USCG Station as seen by boat, opposite Fort Foster.
See an excellent website by Jeremy D'Entremont on the Whaleback Light.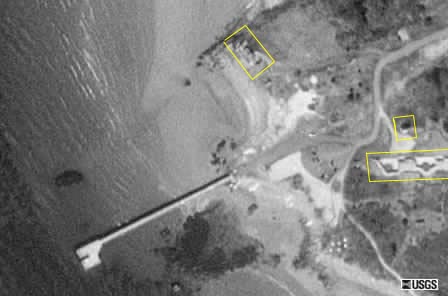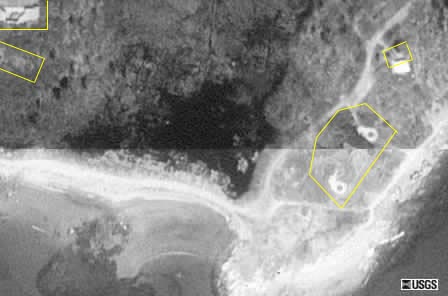 courtesy of Microsoft Terraserver
1992 USGS Satellite Images of the fort.
Batteries and other remaining structures outlined in yellow
---
Proceed to Photo Gallery