American Fortifications">
An American Forts Network historical website
FORT SAULSBURY

Slaughter Beach, Delaware

(1917 - 1946)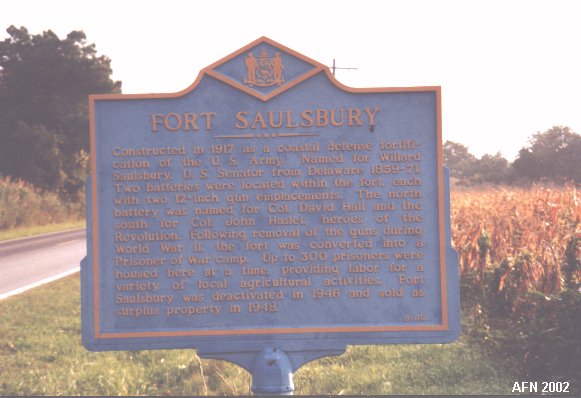 NEW TO THIS SITE:
References of guns/carriages to Mark Berhow's "American Seacoast Defenses:
A Reference Guide" Second Edition, CDSG Press 2004, which will aid you in your
personal research.

Note on GPS coordinates for most of the featured sites:
I used WGS 84 except were noted by "USCGS" or "USACE."
Those marked "USCGS" or "USACE" use NAD 83 and are listed at
http://www.geocaching.com/mark/.
The accuracy between WGS 84 and NAD 83 is slightly off,
but should not cause you any difficulties in finding locations
since many GPS devices allow you to switch between them.

The property owner strongly requests No Tresspassing.
Please respect his wishes and enjoy the photographs presented here as your virtual tour.
The fort was built beginning in 1917 and served until World War II. Named after Willard Saulsbury, former Attorney General of Delaware (1850-1855); US Senator (1859-1871); and Chancellor of Delaware (1874-1892). Batteries here are Battery Hall (1924 - 1945), and Battery Haslet (1924 - 1942) whose guns were transferred to Fort Miles. Fort Saulsbury briefly served as a German POW camp during WW2. Fire-control towers were once located along the shoreline at Big Stone Beach (still exists), Mispillion River, and Fowler Beach. One may have also been at South Bowers, and Cedar Beach.
Most photography is courtesy of Bob Savage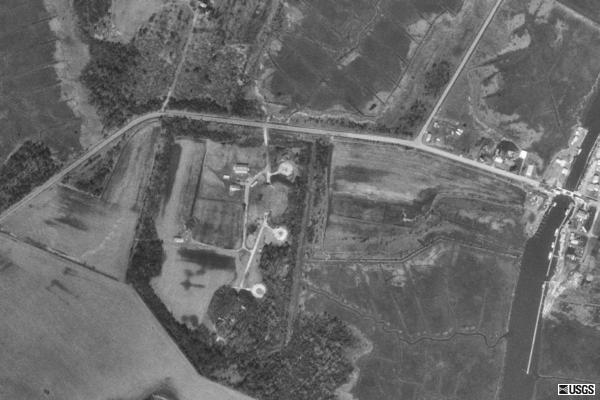 Satellite Images of Fort Saulsbury
courtesy of Microsoft TerraServer

* Semi-Official Link to Fort Saulsbury *
* FortSaulsbury.org *

Launched: September 21, 2002
last updated: 7 May, 2009

This website is owned by American Forts Network (AFN) and is not affiliated with government agencies in any way.