American Fortifications">
An American Forts Network historical website
FORT MOTT

State Park
Finns Point - Pennsville, New Jersey

(1860's, 1872, 1896 - 1943)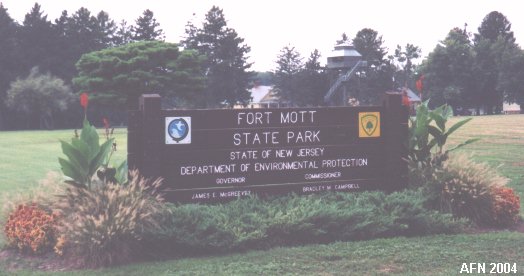 N 39°36.299 W075°32.986 (flagpole)
NEW TO THIS SITE:
References of guns/carriages to Mark Berhow's "American Seacoast Defenses:
A Reference Guide" Second Edition, CDSG Press 2004, which will aid you in your
personal research.

Note on GPS coordinates for most of the featured sites:
I used WGS 84 except were noted by "USCGS" or "USACE."
Those marked "USCGS" or "USACE" use NAD 83 and are listed at
http://www.geocaching.com/mark/.
The accuracy between WGS 84 and NAD 83 is slightly off,
but should not cause you any difficulties in finding locations
since many GPS devices allow you to switch between them.

A Confederate POW cemetery was created here in 1863. The POWs were held in Fort Delaware. Earthwork fortifications were also built here for ten (15-inch and 10-inch) Rodman guns on wooden carriages and platforms. Finns Point Battery was first located here in 1872. Only two gun emplacements and five magazines in the mortar battery were completed before construction was halted. Two 1872 magazines remain, and one was used again during the Endicott period. It has an early observation post on it. The current fort was created in 1897 beginning with a "6-gun battery" which eventually became Batteries Harker and Arnold. Along with Fort DuPont, it was built to compliment Fort Delaware. Fort Mott was named for Major General Gershom Mott of New Jersey. He served in the Mexican War and rose through the ranks during the Civil War. Mott resigned in 1866, and died in 1884. The Peace Magazine was built in 1904. Endicott batteries here are the combined Battery Arnold (1899 - 1943) and Battery Harker (1899 - 1941), Battery Gregg (1901 - 1910), Battery Krayenbuhl (1900 - 1918), and Battery Edwards (1902 - 1920). Battery Commander stations were later installed in the gun emplacements on Batteries Krayenbuhl and Gregg. Battery Edwards' casemates were constructed from two of the original 1872 magazines. Two steel observation towers are located here. The one by the river was built in 1902, and the one by the park office was built in 1903 (renovated 2002). The fort was on caretaker status beginning in 1922. Three of Battery Harker's guns were sold to Canada in 1941. Two of those are on display at Fort Cape Spear in Newfoundland. The other was sent to Fort Prével in Québec. The Army moved Fort Mott's officers quarters via barge to Fort DuPont in Delaware. Parvin State Park (about 30 minutes east near Vineland) was a German POW camp during WW2.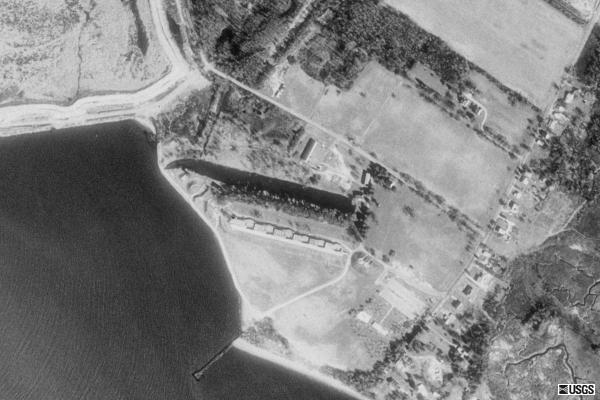 Satellite Images of Fort Mott
courtesy of Microsoft TerraServer

* Official link to Fort Mott State Park *

Launched: August 31, 2002
last updated: 7 February 2008

This website is owned by American Forts Network (AFN) and is not affiliated with government agencies in any way.