American Fortifications">
An American Forts Network historical website
FORT MILES

Cape Henlopen State Park
Lewes, Delaware

(1917 - 1918, 1940 - 1962)


Cape Henlopen & Harbor of Refuge (Tower 8 at center; lighthouses on either side)
NEW TO THIS SITE:
References of guns/carriages to Mark Berhow's "American Seacoast Defenses:
A Reference Guide" Second Edition, CDSG Press 2004, which will aid you in your
personal research.

Note on GPS coordinates for most of the featured sites:
I used WGS 84 except were noted by "USCGS" or "USACE."
Those marked "USCGS" or "USACE" use NAD 83 and are listed at
http://www.geocaching.com/mark/.
The accuracy between WGS 84 and NAD 83 is slightly off,
but should not cause you any difficulties in finding locations
since many GPS devices allow you to switch between them.

Fort Miles was the main defense of the Delaware during World War II. It made Fort Saulsbury obsolete, although that fort continued its military service during the war. In 1941 the Cape Henlopen Military Reservation, also called Camp Henlopen, was named after General Nelson Appleton Miles, who was the last to serve as the commanding general of the Army. In 1956, the Navy took control of the batteries and bunkers for use as a Naval Radio Station (1963 - 1976), although the Army retained the property. The rest of the base became the Fort Miles Recreation Area. Most of the area became a state park in 1979, with other areas sold by the military in 1980, 1982, and the mid 1990's.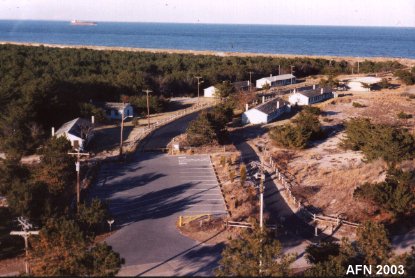 Barracks area.
First located here was a temporary battery of one 3-inch gun (1917 - 1918) on the cape. World War II batteries here are Battery Smith / 118 (1943 - 1948), Battery 519 (1944 - 1948) replaced #119, Battery Herring / 221 (1944 - 1948) uncovered, and Battery Hunter / 222 (1943 - 1947). Located on the cape were the Exam Battery aka Battery 5 (1942 - 1946) (buried) four 3-inch shielded guns, Anti Motor Torpedo Boat Batteries 5A and 5B, (both buried) (1943 - 1946) four 90mm AMTB guns each. Also, Batteries 21 and 22 (four 8-inch railway guns each). There was also one unnamed battery - a four gun 155mm battery (1942 - 1943). Battery 119 was planned but modified during construction into 519. The units that served here were the 261st Coast Artillery, a unit of the Delaware National Guard, and the 21st Coast Artillery.
Several fire-control towers still remain throughout the area, and one is open to the public. Some of them are in danger of being overtaken by the ocean. All standing towers are showcased on this website, including those located at Henlopen Acres (2 inside state park), Dewey Beach (2 inside state park), Indian River (1 south of bridge), and Fenwick Island (1 inside state park). A tower at Broadkill Beach no longer exists.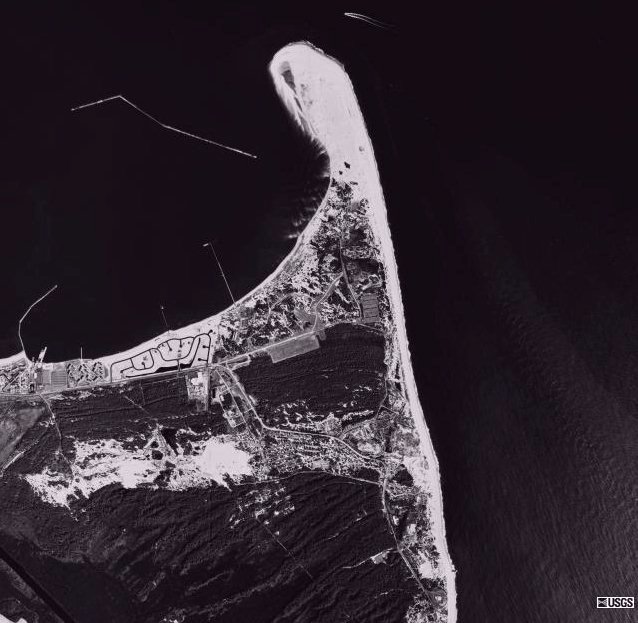 Satellite Images of Fort Miles
courtesy of Microsoft TerraServer

* Official Link to Cape Henlopen State Park *
* Official Link to Fort Miles Restoration Project *

Launched: June 8, 2002
last updated: 7 February, 2008

This website is owned by American Forts Network (AFN) and is not affiliated with government agencies in any way.