American Fortifications">
An American Forts Network historical website
FORT DuPONT

State Park & Gov. Bacon Health Center
Reedy Point - Delaware City, Delaware

(1860's - 1873, 1896 - 1945)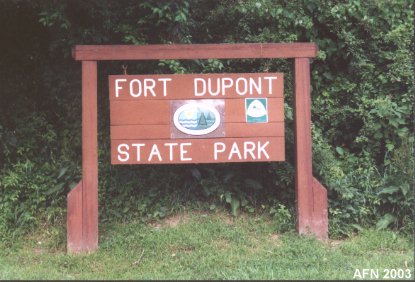 N 39°34.382 W075°35.108 (flagpole)
NEW TO THIS SITE:
References of guns/carriages to Mark Berhow's "American Seacoast Defenses:
A Reference Guide" Second Edition, CDSG Press 2004, which will aid you in your
personal research.

Note on GPS coordinates for most of the featured sites:
I used WGS 84 except were noted by "USCGS" or "USACE."
Those marked "USCGS" or "USACE" use NAD 83 and are listed at
http://www.geocaching.com/mark/.
The accuracy between WGS 84 and NAD 83 is slightly off,
but should not cause you any difficulties in finding locations
since many GPS devices allow you to switch between them.

Originally this was Fort Reynolds, located at the original entrance to the Chesapeake & Delaware Canal. Earthwork batteries were built in 1864, and an unfinished mortar battery from 1872 still remains. Fort DuPont was built beginning in 1897, but it was not named until 1899. It was named in honor of Rear Admiral Samuel F. DuPont. Fort DuPont was the harbor defense command post until 1942 when it moved to Fort Miles at the bay entrance. Coastal batteries here are the combined Battery Rodney (1900 - 1941) and Battery Best (1900 - 1941), the combined Battery Read (1899 - 1918) and Battery Gibson (1899 - 1917), Battery Ritchie (1900 - 1917), and Battery Elder (1904 - 1942) destroyed. One old mine-control tower is still here in front of the National Guard Armory. German POWs were held here during World War II. Some of the officers quarters were originally located at Fort Mott, NJ. The Army moved them here by barge.
REEDY ISLAND
N 39°28.952 W075°35.499 (USCGS "Liston F Range LH")
For World War II an anti-motor torpedo boat (AMTB) battery was built on the mainland below Reedy Island at Bay View Beach, downriver from Port Penn. Battery Liston - aka Elder II (1942-1943) consisted of two 3-inch guns. Also here was a 60-inch searchlight. The guns were transferred here from Battery Elder at Fort DuPont.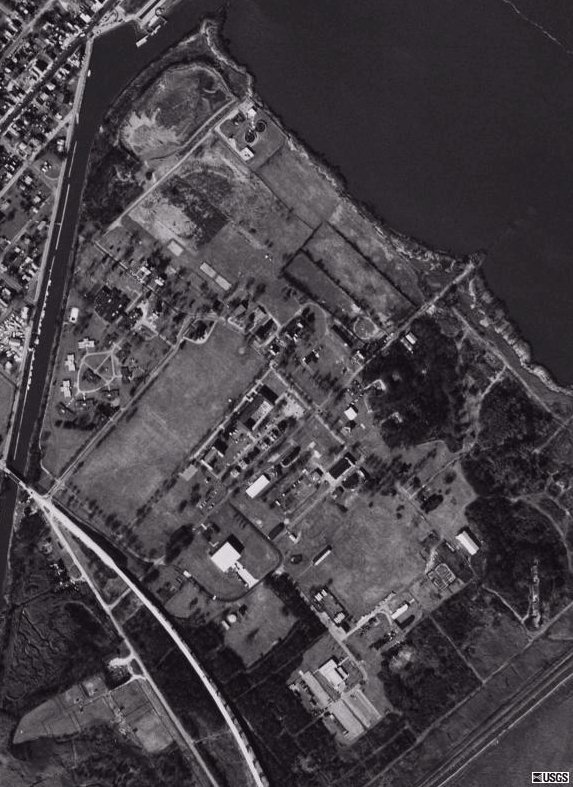 Satellite Images of Fort DuPont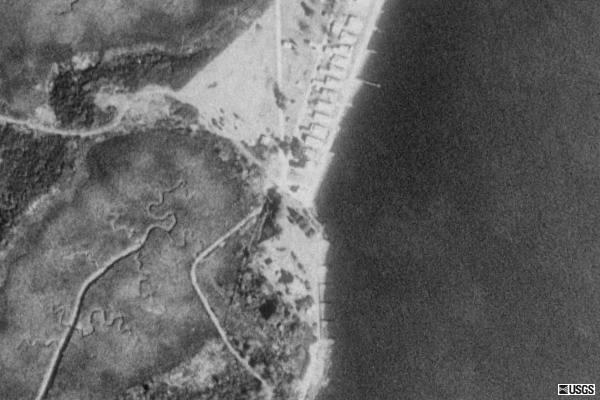 Satellite Images of Bay View Beach
courtesy of Microsoft TerraServer

* Official Link to Fort DuPont State Park *

Launched: September 21, 2002
last updated: 7 February 2008

This website is owned by American Forts Network (AFN) and is not affiliated with government agencies in any way.