An American Forts Network historical website
CAPE MAY MILITARY
RESERVATION

Cape May Point State Park
Cape May, New Jersey

(1917 - 1919, 1942 - 1948)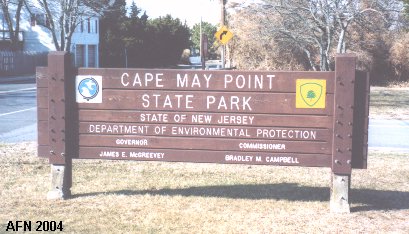 NEW TO THIS SITE:
References of guns/carriages to Mark Berhow's "American Seacoast Defenses:
A Reference Guide" Second Edition, CDSG Press 2004, which will aid you in your
personal research.

Note on GPS coordinates for most of the featured sites:
I used WGS 84 except were noted by "USCGS" or "USACE."
Those marked "USCGS" or "USACE" use NAD 83 and are listed at
http://www.geocaching.com/mark/.
The accuracy between WGS 84 and NAD 83 is slightly off,
but should not cause you any difficulties in finding locations
since many GPS devices allow you to switch between them.

The military base that was here was built to compliment Fort Miles on Cape Henlopen near Lewes, Delaware. Very little remains here due to excessive beach erosion over the years. This base was built in 1942. However, there was previously a World War I battery near here (1917-1919) which consisted of a single 6-inch gun, a magazine, CRF station, and storehouse. It was located on Beach Ave. The World War II battery here is Battery 223 (1944 - 1947). There was also Anti Motor Torpedo Boat Battery 7 (1943 - 1946) which washed away in the 1970's, and an unnamed WWII battery of four Panama mounts which also washed away in the 1970's. A life saving station was also here, the site of which has also washed away. The lighthouse at the point was erected in 1859, replacing earlier lighthouses from 1824 and 1847. The Navy continued to use the base after the war as a hydrophone station. A fire-control tower is located at Sunset Beach to the north of the lighthouse, and another at the Grand Hotel on Beach Ave & Philadelphia St. Two fire-control towers were once located at Wildwood Gables and North Wildwood. Searchlight towers were also located around the area.
Other nearby points of intrest are: the concrete ship Atlantus which was sunk by a storm in 1926, the remains of the HMS Martin which was grounded and burned in 1813, the USCG base which was a World War II Navy base, and the Cape May County Airport which was a World War II Naval Air Station.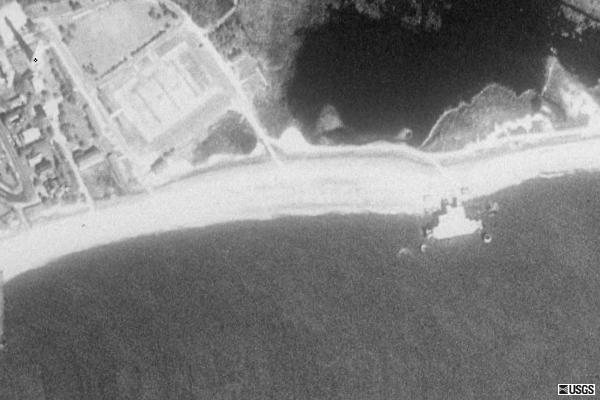 Satellite Images of Cape May
courtesy of Microsoft TerraServer

* Official link to Cape May Point State Park *

Launched: August 31, 2002
last updated: 7 February 2008

This website is owned by American Forts Network (AFN) and is not affiliated with government agencies in any way.