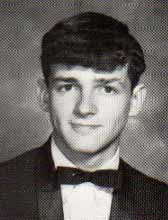 Dennis W. Simmons
Granite Falls, NC
Spouse - Janet Aumulluer
E-mail - denniswsimmons@hotmail.com
High School Activities - Key Club (10), (11); Track Team (10); Cross Country Team (11); Varsity Club (11), (12)
June, 2005:
We are in the process of selling our home and relocating in the general are of Lenoir, North Carolina.
I moved to Clearwater, Florida, right after graduation and attended St. Pete Junior College. I started work for GTE (telephone) the same year. I got married to Janet Aumuller of Largo, and we have three boys - Matthew born 1974, Timothy born 1973 and Dennis II born 1979. We have two grandsons from Matthew that are 3 years old and 2 months old. All three boys live fairly close so we enjoy their company.
I have worked for Sprint (telephone) in North Wilkesboro for 15 years and should continue that employment. We reside in the foothills of North Carolina and have gotten spoiled by the seasonal changes that are unlike Florida life.
Any class members are welcome to call me at 828-313-9332 or Email me at the above address.
Continue with the next name on the alphabetical list
Return to Class of 71 homepage