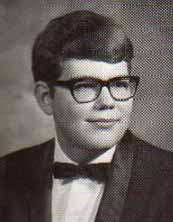 Craig Sikes
Deceased
High School Activities - Torch Society (10); National Honor Society (11), (12); French Club (10), (11), (12); Hi-Lights Staff (12); Hi-Y (12)
The following appeared in the Orlando Sentinel on October 15, 2002:
Political activist Craig Sikes, 49, supported candidates, officials
By Martin E. Comas
Sentinel Staff Writer
Craig sikes relished politics. Although he never held a high-profile office, Sikes was a long-time Republican Party activist and a behind-the-scenes player in local politics.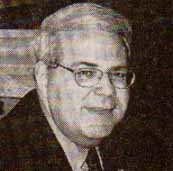 Since 1992, he served as a top deputy in the Orange County Property Appraiser's Office.
Sikes, of Orlando, died Saturday of a possible cerebral hemorrhage, family members said. He was 49.
"He was a no-nonsense guy," said Orange County Chairman Richard Crotty. "He had a high regard for perfection, and he had a real ability to play a supporting role. He took pride in being able to lift up other people."
Sikes worked as top deputy appraiser after Crotty's election to property appraiser in 1992. When Crotty was named county chairman in 2001, Sikes submitted his name as a possible replacement. Gov. Jeb Bush eventually named Bill Donegan for the job. Even so, Sikes worked just as hard for Donegan.
"He was extremely professional and extremely detailed," Donegan said. "I would ask him to give me some kind of graph, and he would have it ready in what seemed like two seconds."
In 1996, Sikes ran for Orange County supervisor of elections. He beat two candidates, including former Orange County Sheriff Walt Gallagher, in the Republican primary, but lost the election by a slim margin to Democrat Bill Cowles.
Sikes served in 1979 as a legislative assistant for Crotty in the state legislature. He later worked as an aide to Republican U.S. Sen. Paula Hawkins for six years beginning in 1981. Sikes also worked as an aide to now U.S. Rep. John Mica when Mica was a state representative.
Sikes later was the executive director of the Florida Real Estate Appraisal Board in the state's Department of Professional Regulation.
Born in Orlando, Sikes graduated from Boone High School. He earned bachelor's and master's degrees in political science from the University of Florida.
Friends described him as a low-key and quiet man but an avid Gators fan, who frequently wore T-shirts and hats and waved flags supporting the school's teams.
Sikes was a member of the Tiger Bay Club, a political social group. He was a Methodist.
Sikes' father, Al Sikes, said his son also loved U.S. history and voraciously read almost any book he could find about U.S. presidents.
Crotty said while he was visiting Sikes' family Monday, congressman Mica called.
"There aren't many people who, when they pass on, have a county chairman in the parents' living room, offering his condolences, and at the same time a U.S. congressman calls on the phone," Crotty said.
Survivors include parents, Al and Joan Sikes of Orlando.
Funeral arrangements are being handled by Carey Hand Colonial Funeral Home, Orlando.
.
On October 22, the Sentinel printed the following, written by Scott Maxwell:
POLITICS LOSES A GENTLEMAN
Twenty-four years ago, Rich Crotty met a men who was soft-spoken, intelligent and all business.
The man had pored over voter rolls and had advice for Crotty, who was then trying to win his first election, as a state legislator. If Crotty followed the campaign plan, he could win - but only by the slimmest of margins, the fellow said.
Crotty, now Orange County chairman, won that election by 37 votes - just as Craig Sikes had predicted.
Sikes died last week, too early, at age 49. And Monday, hundreds crammed into First Methodist Church for his funeral.
They filled the sanctuary to recognize a man whom most Central Floridians never heard of - a lifelong GOP worker and aide to members of Congress and local politicians.
They were there because Sikes represented what politics today is not. He was humble, soft-spoken and genteel. He grinned a lot. And he refused to speak ill of others.
Eulogizing him were the likes of Crotty, U.S. Rep. John Mica and Orange county Property Appraiser Bill Donegan.
But perhaps most significant was the eulogy of Elections Supervisor Bill Cowles. Cowles, after all, is a Democrat who beat Sikes in the 1996 by two-tenths of a percentage point. After the election - and Sikes' refusal to call for a recount - their friendship grew. "He was tryly a gentleman," Cowles said.
Sikes died of a weak heart - something Mica said he couldn't imagine.
Continue with the next name on the alphabetical list
Return to Class of 71 homepage