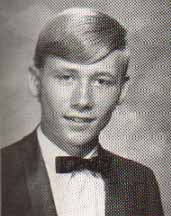 Neal Pitts
Orlando, FL
Spouse - Meri
E-mail - NealPPittsPA@yahoo.com
High School Activities - Cross Country (12), Varsity Club (12), AFS (12)
Colleges - University of Georgia; Rhodes College (B.A. - 1975); Ohio Northern University (J.D. - Law 1978); University of Florida (LL.M. - Taxation 1982)
Spouse - Meri
Kids - Four
Job - Attorney (Neal P. Pitts, PA - Orlando)
Other Information - The following article appeared in The Florida Bar News in September, 2001:
Neal P. Pitts can't wait to leave his Orlando law office and get home before sunset, so he can listen to crickets chirping by the lake.
It's a sound he hasn't heard for 40 years, and he considers it no less than a miracle.
Thanks to advances in medical technology - along with an abiding faith that he would hear again one day - a cochlear implant procedure at Shands Hospital in Gainesville was a great success.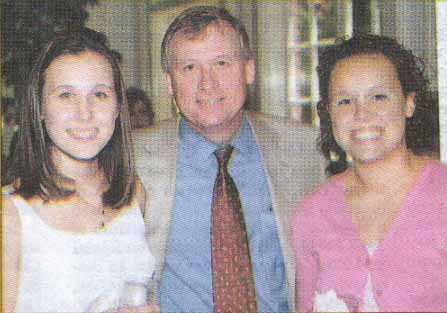 "It's a miraculous thing," said 47-year-old Pitts, who was admitted to The Florida Bar in 1979 and is a member of the Workers' Compensation Section.
"Being able to hear again is like I have arrived in heaven."
His surgeon, Dr. Patrick Antonelli, called it "pretty dramatic" to "take a guy who is basically stone cold deaf and within a course of months he started using the telephone for depositions. We reconnected him to his life."
Here's how Dr. Antonelli described the two-and-a-half-hour brain operation:
"We use an operating microscope to sneak behind the brain down behind the ear canal and find the nerve to face and taste. We go between those two nerves and put electrodes into a hole in the cochlear, the inner ear. We secure the receiver, where we send the signal behind the ear. We sew it up, and the external device has a little magnet to center over an antenna that delivers power and signal across the skin."
While the crude procedure has been around since the late '50s and '60s, Dr. Antonelli said, dramatic improvements have been made in the software in signal processing - and, of course, in Pitts' quality of life.
That's where Alice Holmes, associate professor of audiology at the University of Florida, came in. It was her job to program the processor, the external device that looks much like a beeper worn on a belt, that is attached to a microphone behind the ear. She put in an electrical current to find the softest signal that Pitts could perceive sound for each of the 22 electrodes inside the cochlear. She found an upper level, where that stimulation was still comfortable, and made a program like a map that sends all the sound information within that range. She programmed the processor gradually, so Pitts wasn't overwhelmed and exhausted by too much noise. After some refining and reprogramming, Pitts is a success story.
"He's an amazing man," Holmes said. "There's a wide range of how well people do with a cochlear implant. The top 10 percent - people like Neal - can function on the telephone without problems and go on leading very normal lives. The device is by no means a hearing restorer. But in many people, like Neal, it can give information that can lead to a hearing world."
From a virtually deaf five-percent comprehension, Pitts' hearing has improved to a nearly normal greater-than-90-percent comprehension today.
The double whammy of a bad reaction to antibiotics, combined with high fever from the mumps, began to rob Pitts of his hearing at age 6. He first realized he was going deaf when he told his parents, "I can't hear the birds sing anymore."
So it was poetic justice that the first thing he heard again, on the morning after his cochlear implant was connected on January 9, 2000, was the glorious song of birds as he walked out of his hotel room in Gainesville.
As Pitts explained, regaining his hearing was not an instant cacophony of all of the sounds that surround him - from his wife's voice to noisy mufflers to train whistles to static on the radio. Rather, the brain reprograms itself while he sleeps. Sounds long forgotten return to him gradually, doled out like unexpected gifts.
As he listens to a concert, for example, he is just beginning to be able to separate all of the pitches of the instruments and voices from deep bass to high treble. But the clacking of typing on a computer keyboard or the dialogue in a movie is now coming through loud and clear.
"It's like striking a match in a dark room, rather than switching on a birhgt light," he said of hearing the first sounds that have now added up to an impressive audio repertoire.
"It seems like every week, I hear something different. Or I recognize a sound I haven't categorized before," Pitts said.
Crusial to his success were the six years of hearing as a child that provided the invaluable inventory of sounds his brain now draws upon to recognize the audio signals.
"It's important that Neal had auditory memory," Holmes explained. "His brain actually had something to remember. For an individual who has been deaf their entire life, the prognosis is not as good."
"What new thing did you hear today, Neal?" is the standard greeting from Richard Thompson, judge of compensation claims in Orlando, before whom Pitts appears regularly in court.
"Just the sounds we take for granted, like car keys hitting the floor. Or a beeper phone," Judge Thompson said. "It is inspiring. In my line of work, I don't get to see people get better a whole lot. I see people who have devastating injuries that they will not recover from. It's good to see someone really get better. It's been a real life-changing event for Neal."
Not that Pitts ever let his deafness hold him back. His parents mainstreamed him into regular school, where he never got special treatment for his impairment.
While it was very difficult and frustrating at times, Pitts learned to read lips, speak well, and succeed - even graduating in the top five percent of his law class at Ohio Northern University, where he served as a member of the Law Review. He went on to receive an LL.M. in taxation at the University of Florida College of Law and has earned the highest AV rating from Martindale Hubbell.
"The darkest mement, I thought, was that my dad had a firm and was a prominent lawyer who practiced with Thom Rumberger and Maurice Paul, who went on to be a federal judge," Pitts recalled. "And I had trained with his firm and got an LL.M. in taxation. Coming out of there, I realized nobody would hire me because of my hearing loss. I just never heard back after job interviews. I don't blame them. I don't know if I would have hired me either."
Wanting to be independent and not wanting to do defense work like his father's firm, he hung out his own shingle in 1983, doing civil trail work in personal injury and wrongful death cases. Since 1993, he has largely focused on Social Security and workers' compensation claims.
What kept him going strong, he said, was "my faith in God, a strong desire to succeed, and a wife and four kids."
In court, Judge Thompson says, "Neal was always very good at performing well with his impediment. We were able to accommodate him. He would read my lips, and I would make sure I was facing him when I was speaking to him. And being in worker's comp, we don't have to talk to juries. We work well together. He was a great lawyer and still is."
One thing Judge Thompson has noticed is that Pitts' slight speech impediment has cleared up.
Pitts said the miracle of hearing again has made him a far better lawyer. Before, he said, he had to work twice as hard to be on equal footing with his legal opponents.
"Now, I have the ability to hear and cross-examine and pick up on nuances," he said.
Another thing Pitts couldn't do before was communicate by phone. After his successful surgery, his mother's number was the first one he dialed.
"I said, 'This is your son calling,' and she just broke out in tears," Pitts recalled.
Even for Homes.
"As an audiologist, without a doubt, the most rewarding thing I do professionally is cochlear-implant hookups. I've done more than 200 hookups since 1985, and I can tell you it is still an emotional experience."
Pitts' wife, Meri, who met him in college in Memphis and works at his law office, recounts with delight witnessing her husband discover sounds again.
When he asked what that buzzing sound was at the office, Meri told him, "That's the security device on the door when it opens." And he laughed and said he wondered how his wife always seemed to magically know when a client had arrived.
Soon after the cochlear implant was connected, they went back to their hotel, and Pitts stood at a Coke machine with a handful of quarters, fascinated by the new sound of coins clinking through the machine that spit out soft drinks.
Holmes suggested he begin his new hearing adventure by listening to water running.
"I warned him that the toilet flushing will sound like somebody blowing his head off," Holmes said, adding that she asks her patients' spouses to point out sounds in an environment - a door squeaking or a dog barking - so that "the next time the brain will remember."
"He would turn the water on and flush the toilet and drop coins on different surfaces," Meri Pitts said. "That evening, we went to Target and he started following people around to hear their footsteps with different shoes. It's like someone who is blind and sees for the first time.
When she asked her husband what was the one thing he wanted to do after his newfound hearing, he was quick to answer: "Go to the circus!" He was anxious to hear all of the animal sounds at Barnum & Bailey.
"He couldn't pick up one sound and erase the other. There was jumbled information," Meri Pitts said. "But he had a lot of fun looking around. He kept saying, 'I can hear the lions roaring,' even though they were backstage. He was like a two-year-old looking around trying to figure out what's making the sound."
She says she can't wait to have grandchildren, because her husband never heard the cries and giggles of his own children growing up.
"Most wonderful for me is it has given him his independence," Meri Pitts said. "He can talk to his friends on the telephone. It's given him a new sense of freedom. He's not limited anymore. When we first met and he decided to go to law school, he said he always wanted to be a judge. But he said, 'I can't do something like that, because of my hearing loss,' Now, it has given him the liberty and freedom to set goals. Now there's nothing limiting him.
Next summer, Neal Pitts plans to run for judge.
Continue with next name on alphabetical list
Return to Class of 71 homepage