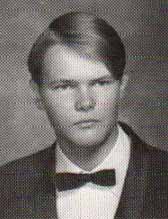 Chuck Mosley
The Orlando Sentinel published the following obituary on October 22, 2008:
Charles Eugene Mosley Jr., 55, a native of Orlando, and a resident of Astatula, FL passed away on Sunday, October 19, 2008. Beloved father of Jennifer Marie Mosley, Wayne Phillip Mosley, and Barry Alan Mosley. Son of Doris Avery and the late Charles Mosley Sr. Brother of Jerald Mosley and Steven Mosley. Nephew of Cullen Maddox and J.W. Maddox. Also survived by his best friend Ron Bartholome, and children's mother and wife of many years, Ann Hopper. He was also expecting his first grandchild in December. Charles was a Deputy First Class with the Orange County Sheriffs Office, a member of The Fraternal Order of Police, President of the County Line Hunt Club, member of the NRA, enjoyed hunting, fishing, spending time with his dogs, being a born again Christian, and going to church.
He is buried at Woodlawn Memorial Park, Gotha, FL.
High School Activities - None listed in Legend
Continue with the next name on the alphabetical list
Return to Class of 71 homepage