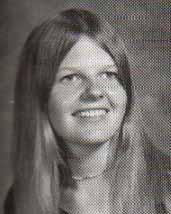 Susan Martin-Rott
E-mail - rootboun@tampabay.rr.com
http://home.tampabay.rr.com/rootbound/outlaws/page1.htm
High School Activities - Boone Players (10), (11); Machiavelli League (10), (12)
April, 2002:
The best day of my three years at Boone was the day I graduated ... except this establishment of higher learning spelled my name wrong in the Graduation Program. That pretty well sums up my entire three years there. I would like to know whatever happened to the Schmidtke twins LeAnn and Dianne, and Sandi Shelton, who bailed out of Boone before graduating and went to friendlier turf.
I have found my old buddy Cathi Jones (who also left before they could spell JONES wrong). First thing she said to me when we were reunited was to refer to BHS as the Boone Correctional Institution. Second thing she did was mention how much she STILL disliked two certain female members of the class of 1971 - ironically the same two I would have mentioned for the very same reason, who did everything they could to make the lives of others as miserable as possible for as long as possible. (Give ya a clue on one of them - she said her hair was blonde but it sure looked GREEN to us ...)
I'd also like to hear the rest of the social outcasts who lived on the auditorium steps and made Mr. Barber's life so much fun. Guys like Geoff Stamper, Ron Fleshman, Clay Mesa, and all the ones who took control of the Exchange Club senior year and graduated in style by pulling off those stupid short hair wigs (I have a great pic of Ron Fleshman in his graduation gown MINUS the wig and with the hair flying).
For those 5 or 6 folks who may actually look at my page who give a damn, after leaving Boone moved to Clearwater FL for awhile, then returned to Orlando where I worked at Southern Bell for 5 years. Left that to attend the University of South Florida where I majored in Art with a minor in Broadcast Journalism. (So kiss my XXX Counselor whatever your name was who never advised me about college scholarships or financial aid even though I was in accellerated programs most of my life)
Still hung out with my favorite rock and roll band, the Outlaws (some you may remember them from the Orlando and Winter Park Youth Center in the late 60's and early 70's or from "The Back Door" in Winter Park from 73-75). In 1975, the band signed with Arista records and released several multi-million selling albums throughout the late 70's and 80's. The band is now defunct, but some of the members are still in the spotlight with other music acts (one in Lynyrd Shynyrd, one in County music's "Blackhawk" and one working in Branson MO). My long time companion, James "JB" Britton, who was the band's original sound engineer (whom I met in 1967 at the Orlando Youth Center) died in 1984. I am still in contact with most of the former band members and run the band's tribute website.
I spent 1979-1990 involved in stock car racing in various aspects - as a phtographer, a reporter, a speedway scorer (ironically at Orlando Speed World ...) and from 1989-1991 as a crew cheif on a Pro Figure 8 car, making two trips to Riverhead Speedway in New York for the World Figure 8 Championships. I even raced a few times and held a NASCAR license. I also worked for several years for Pinellas Co FL starting as a Clerk Typist and working up to Engineering Services Technician. I was forced to leave due to health problems. In the 1990's I slowed down quite a bit and took up genealogy and have done quite a bit of work with the USGenWeb Project and Ancestry.com online.
In 1996 I married a bass player named Jeff Rott. I have one stepson who resides in TN.
Boone might have kicked me around, but they didn't kill me. Nice try though.
Continue with the next name on the alphabetical list
Return to Class of 71 homepage