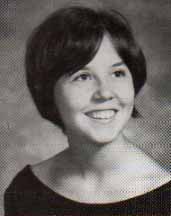 Gabriela Fessenden Wright
Previous High School - North High School, Sheboygan, WI (10)
High School Activities - Drama Club (10), (12 - Vice President); Volleyball Team (10); Boone Players (11), (12)
April, 2002:
Married: Paul G. Wright (1978)
Children: Rebecca Nicole (b. 1982) Freshman FAU
College: B.S. Broadcasting, UF (1975); M.Ed./Ed.S Counseling, UF (1979)
Career: Licensed Mental Health Counselor/Community College Counselor/Dean of Student Services (1979-2001). Currently part-time Director of Christian Education and seminary student. Anticipate becoming an Ordained Minister in the Methodist Church.
Continue with the next name on the alphabetical list
Return to Class of 71 homepage