American Fortifications">
An American Forts Network historical website
FORT DELAWARE

State Park
Pea Patch Island - Delaware City, Delaware

(1847 - 1944)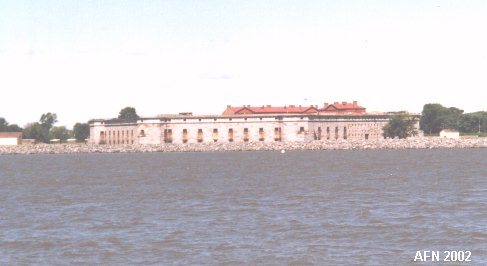 N 39°35.382 W075°34.019 (USCGS "Flagpole")
NEW TO THIS SITE:
References of guns/carriages to Mark Berhow's "American Seacoast Defenses:
A Reference Guide" Second Edition, CDSG Press 2004, which will aid you in your
personal research.

Note on GPS coordinates for most of the featured sites:
I used WGS 84 except were noted by "USCGS" or "USACE."
Those marked "USCGS" or "USACE" use NAD 83 and are listed at
http://www.geocaching.com/mark/.
The accuracy between WGS 84 and NAD 83 is slightly off,
but should not cause you any difficulties in finding locations
since many GPS devices allow you to switch between them.

An earthwork fort was erected in 1813 and dismantled in 1821. A masonry fort was built next but it was destroyed by fire in 1832. Construction on the third fort was started in 1835 using rubble from the previous fort. But it was halted in 1838 because New Jersey claimed the island. The work was resumed in 1848. A water moat was built around the current fort in 1859. Although armed with 131 guns, the fort was used as a POW prison during the Civil War. The entire island was filled with barracks for the Confederate prisoners. Batteries here are Battery Torbert (1901 - 1942), Battery Dodd (1899 - 19188), Battery Hentig (1901 - 1942), Battery Alburtis (1901 - 1920), and Battery Allen (1901 - 1920). A mine casemate is located on the north end along the nature trail. The observation tower along the roadway on the dike was built during World War I. Over time, the island has tripled in size.
A ferry (fee) carries passengers between Delaware City, Fort Delaware, and Fort Mott in New Jersey. Bad weather may preclude or delay ferry service.
COASTAL BATTERIES PHOTO GALLERY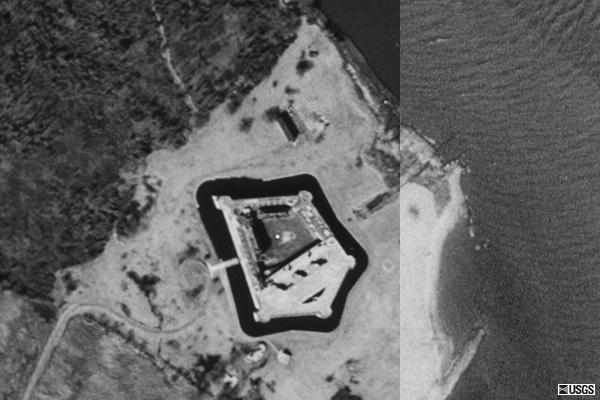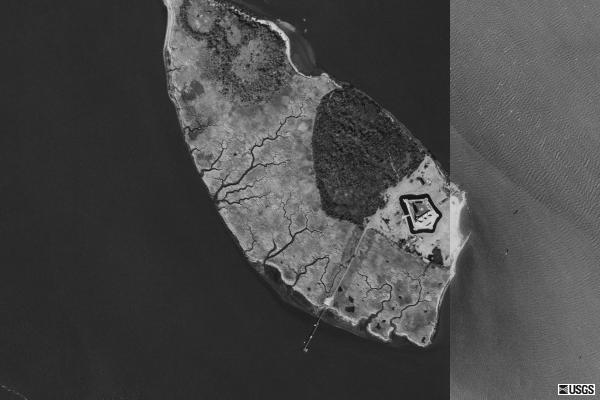 Satellite Images of Fort Delaware
courtesy of Microsoft TerraServer

* Official Link to Fort Delaware State Park *

Launched: September 28, 2002
last updated: 7 February, 2008

This website is owned by American Forts Network (AFN) and is not affiliated with govenment agencies in any way.